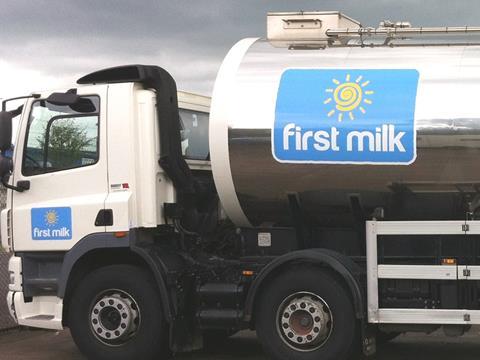 Dairy co-op First Milk has continued to deliver progress in its latest accounts, with turnover climbing to almost £300m against a background of ongoing profit growth.
The business, which produces dairy ingredients and own-label cheese for the mults via partnerships with suppliers such as Ornua, saw group turnover grow by 6% to £299.5m for the year ending 31 March 2021, according to its annual report.
First Milk also enjoyed an 8% increase in operating profit to £8.1m, with net profit growing by 24% to £5.6m, while capital investment in the business grew over the financial year from £5.3m to £7.8m.
The past year also saw the co-op announce plans to become a net zero business by 2040 – driven by the launch of a regenerative agriculture programme that aimed to sequester 100,000 tonnes of CO2 per annum on members' farms by 2025, and by increasing the amount of milk produced from forage by 10% by 2025 to reduce members' reliance on imported feeds.
First Milk added that 93% of its members had now signed up to its First4Milk Pledge on sustainability over the accounting period – which makes a broader commitment to sustainable dairy including guaranteeing cows' access to pasture and enhancing biodiversity.
Member returns also grew, with its member premium doubling to 0.5ppl over the course of the year.
CEO Shelagh Hancock hailed First Milk's "strong" performance in what was "an extraordinary year".
The business had been able to "rapidly adapt and respond positively to the challenges we faced and continued to make good progress throughout the year", she added.
"As a co-operative business, we are committed to working together to regenerate the earth every day to enrich life and nourish future generations.
"We have also committed to our largest capital investment programme to date for the year ahead, which will see us invest £14.4m in our sites to further improve operational capability. Overall, we have delivered promising progress and our vision remains clear – together, we will deliver dairy prosperity."