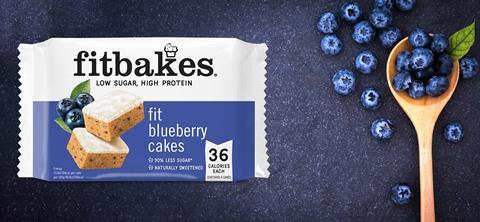 Healthier snacking brand Fitbakes has set its sights on expanding its retail presence after beating a £225k crowdfunding target this week.
The business, founded by nutritionist Ella Rauen-Prestes in 2018, will use the money to help support a slated launch in 1,000 Tesco Express stores as part of its meal deal offering in the third quarter of 2021.
Fitbakes, which makes low-sugar, high-protein cakes and snack bars with no artificial sweeteners, flavourings or colourings, is also in discussion with another major retailer for a 2022 launch.
It has primarily focused on the DTC channel since launching and sold more than one million cakes online, with year-on-year growth in excess of 100%.
The business intends to shift its efforts more into the retail channel, where it is already stocked by Co-op and Selfridges, in a bid to rapidly grow revenues.
"With the grocery listings now a focus we expect a bigger swing in revenue from this source moving forward in 2022 and beyond," Fitbakes said in the crowdfunding pitch.
It has currently raised more than £256k from 92 investors on the Seedrs platform, with 27 days of the campaign left to overfund.
"I want to do for cakes what Halo Top did for ice cream," Rauen-Prestes said.
"Cake is ingrained in the culture of the UK, but my mission is to give consumers a healthier choice.
"To be listed in major multiple retailers and be a prominent alternative in the snacking and meal deal aisle not only makes business sense but it's going to be beneficial for those looking for a healthier but tasty snack option."
Fitbakes also plans to widen its range of products following the fundraising round with a sugar-free millionaire caramel cake, which it claims is a UK first.
"It's our most indulgent and rich treat to date," Rauen-Prestes added. "Our millionaire caramel cake has taken a long time to develop as we struggled to find a sugar-free caramel that stood up to the job.
"We eventually found a traditional caramel manufacturer in France who managed to create a version without sugar which is delicious and has the perfect texture. It only contains natural sweeteners – absolutely nothing artificial."