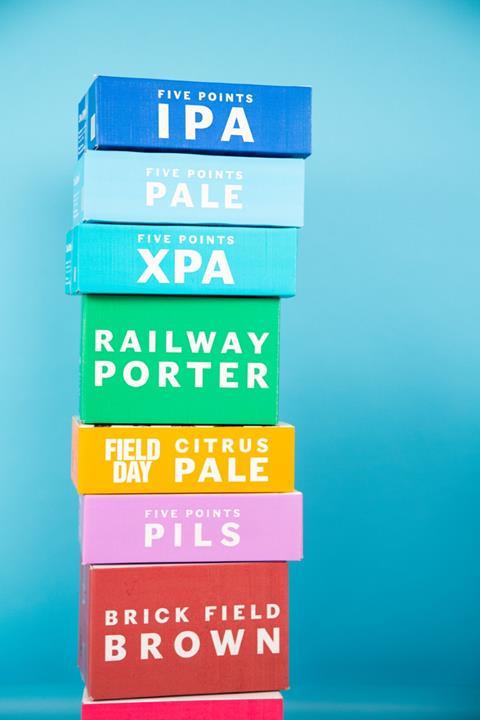 London craft brewer Five Points Brewing has raised almost £700,000 in its latest crowdfunding round to help with ambitious plans to build a new showcase brewery and taproom.
The business, founded in 2013 by Ed Mason and Gregg Hobbs, supplies its range of beers to pubs across the country, as well as supermarkets – with listings in Tesco and Waitrose – and restaurant chain Nando's.
Five Points hit its initial target of £350,000 on the Crowcube platform within just seven days of launching the campaign and is currently overfunding until Thursday (20 May 2021).
It has currently (at time of publishing) raised almost £670,000 from 1,150 investors, valuing the brewer at £13.8m. The company previously raised more than £900,000 on Crowdcube in 2018.
Five Points will use the moving to relocate to a new HQ and bring its brewing, sales and distribution operations together at one site. The business said the planned taproom would be the largest in Hackney.
Founder Ed Mason said: "Covid-19 has been incredibly challenging for the hospitality and brewing industry and forced all of us to examine our business models and what we do.
"We are doubling down on our East London location, building a brand-new combined brewery and distribution centre and, excitingly, create what will be Hackney's largest on-site brewery taproom, just a stone's throw from London Fields and Bethnal Green."
Five Points built revenues to £4.8m in the year before the pandemic hit, with year-on-year growth of 42%. However, sales slipped back to £3m in 2020 as a result of the closure of pubs and bars during the Covid lockdown.
The brewer pivoted toward DTC to offset some of the losses and online sales have now reached more than £300,000.
Mason added: "We are delighted to be committing to Hackney and have exciting plans to grow as we build back from the challenges of Covid-19. We have been gobsmacked by the level of support from our existing investors and local community and are excited to be welcoming people back to drink tank-fresh beer among the tanks."