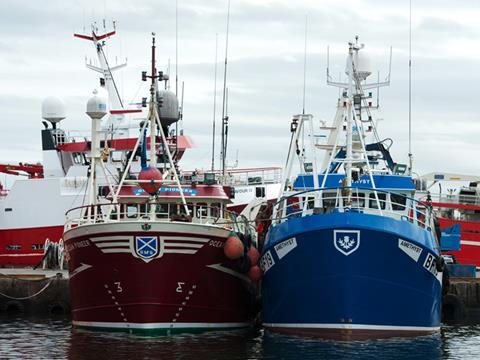 Food businesses are increasingly concerned over threats from French fishermen that goods will be blockaded from entering Europe if a no-deal Brexit excludes their boats from operating in UK waters.
Dimitri Rogoff, president of Normandy's regional fisheries committee, told French radio on Monday his members would stop ferries carrying British goods entering French ports if they are prohibited from entering UK waters next year. Rogoff added he would expect Dutch and Belgian fishermen to do the same.
The threat has exacerbated existing concerns among some British businesses who fear French fishermen may take actions into their own hands. Richard Hampton, MD of Omsco dairy co-op, said the risk of a blockade was "very much underestimated", with the business already planning to halt exports to Europe from Boxing Day, for at least the first few weeks of the year.
Britain's fishing industry has similar concerns. Jerry Percy, CEO of the New Under Ten Fishermen's Association, previously told The Grocer: "French fishermen, like French farmers, tend to take the law into their own hands if they're not happy with something.
"They know very well it would take nearly nothing to make ports from Calais to Boulogne untenable for UK transport. Park a few tractors or a few boats in the harbour and it grinds to a halt very quickly."
While much of no-deal planning has focused on congestion caused by additional customs processes and paperwork, such actions by French fisherman could have major consequences for cross-Channel traffic.
James Kane, associate at the Institute for Government, said worst-case scenario planning was typically based on "the assumption all actors will behave legally", however, "that's not a safe assumption to make – especially about fishermen near the Channel ports".
Kane added that while EU states have an obligation under EU law to stop private citizens from interfering with the free movement of goods between member states, they have no such obligation to stop individuals blocking imports from non-EU countries.
The UK government said last week the Navy will be able to arrest EU fishermen who illegally enter Britain's waters in the event of a no-deal Brexit. But Rogoff told the France Info radio station: "If we are deprived of our fishing grounds, we will not watch the British supply the French market.
"There will therefore be blockages to ferries, since this mainly happens by ferries. And on that, we are quite clear and determined."