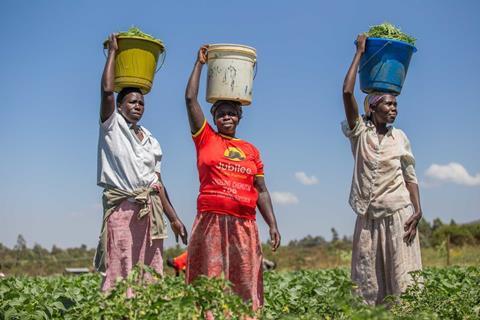 The food industry's Food for Good network has announced it has raised £2m for international charity Farm Africa over the past decade.
The network, which celebrated its 10th anniversary on 18 March, supports Farm Africa's work embedding sustainable agriculture in eastern Africa. It raises funds through membership fees, as well as food industry leaders participating in a series of ambitious fundraising challenges.
Speaking at an online event to mark the anniversary, Sainsbury's director of corporate responsibility, sustainability & public affairs, Judith Batchelar, said: "We are absolutely thrilled that the Food for Good network has reached the milestone of raising a staggering £2m for Farm Africa.
"Having led several of the fundraising challenges in eastern Africa myself, where I got to know many of the farmers benefiting from the charity's support, I'm left in no doubt that every penny raised is being put to incredible use, helping Farm Africa give farming families the support they need to grow more and better produce, and sell it for higher prices, all while protecting the environment for generations to come."
The first Food for Good fundraising challenge took place in 2011, when a group of food industry leaders including Charles Reed, CEO of The Grocer's publisher William Reed Business Media, climbed Africa's tallest mountain, Kilimanjaro in Tanzania, raising £250,000 for Farm Africa.
Other fundraising challenges have included the Bale Mountains Trek, the Mount Elgon Trek, the Tanzania Highland Challenge, two Big Beehive Builds in Tanzania, a Dig for Good fish pond dig in Kenya and the Thousand Trees tree planting challenge in western Uganda.
In 2021, the Food for Good network is aiming to raise a total of £280,000, with plans currently being developed for a Covid-safe fundraising challenge for food industry participants.
"As a charity that supports food producers in eastern Africa, we're hugely grateful to have the generous support of the UK food industry," added Dan Collison, CEO of Farm Africa.
"Every day, farming communities face the immense challenge of providing for their families in the face of lack of access to training, agricultural supplies and markets, all of which are compounded by climate change and now the Covid-19 pandemic. The support of the Food for Good network has never been more needed.
"We're very thankful to everyone who has contributed to reaching the £2m mark, from climbing Kilmanjaro, the Bale Mountains or Mount Elgon, to building beehives in Tanzania, digging fish ponds in Kenya and attending the Food for Good gala dinners. Your support is supporting the development of a sustainable food system in eastern Africa."
The next Food for Good gala dinner is scheduled to take place in October 2022, having been postponed from 2020 due to the coronavirus pandemic.
To find out more about Food for Good, including how to join the network and a timeline of fundraising challenges, visit the Farm Africa website.