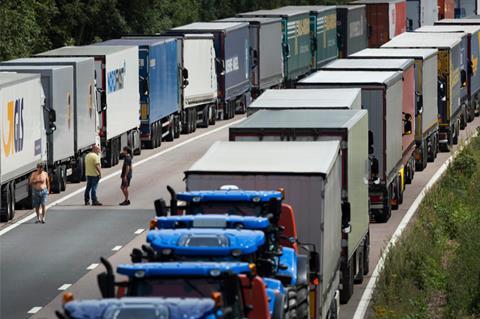 Food industry bodies have urged the government to find a way to get France to unseal its border with the UK or face the possibility of "serious" fresh food supply disruption.
Channel crossings to France for passengers and freight ground to a halt at midnight last night (20 December), after the country announced it would be sealing its border with the UK for 48 hours due to news that a more virulent strain of Covid-19 was spreading in England.
It has led to a build-up of freight traffic in Kent, with 6,000 lorries estimated to join the queue for the port of Dover and the Channel Tunnel today (21 December).
Trade bodies representing the UK food supply chain urged consumers not to panic buy as food was still able to come into the country.
However, they warned that any prolonged closure of the border could prove problematic given the UK is just days away from the end of the Brexit transition period.
"The suspension of accompanied freight traffic from the UK to France has the potential to cause serious disruption to UK fresh food supplies post-Christmas – and exports of UK food and drink," said Food & Drink Federation CEO Ian Wright.
"Continental truckers will not want to travel here if they have a real fear of getting marooned. The government must very urgently persuade the French government to exempt accompanied freight from its ban."
Read more:
The Fresh Produce Consortium's CEO Nigel Jenney added disruption could "take many days to resolve" and warned that if the border closure was not quickly resolved fresh fruit and vegetable supplies would face an impact "sooner rather than later" due to their perishable nature.
Whilst logistics bodies echoed the concerns of the food industry, they sought to remind shoppers there was no reason to panic buy food.
"The UK has a resilient and diverse food supply chain," said CEO of the Cold Chain Federation Shane Brennan. "We are operating at our peak trading period with well stocked supermarkets and supply chains full of all the products people need for Christmas.
"We urge consumers to trust in the professionals working across the cold chain to do their job. They have proved they can do this every day through Covid."
There are hopes the situation could be resolved quickly as France's transport minister Jean-Baptiste Djebbari suggested systems that would allow cross-Channel travel from the UK to restart could be put in place later today.
Writing on Twitter, Djebbari said, "In the coming hours, at European level, we will be putting in place a solid health protocol so that flows from the United Kingdom can resume. Our priority: protect our nationals and fellow citizens."
His comments follow those of French deputy minister for European Affairs Clément Beaune who told radio station France Inter the border had been closed to "clarify scientific information, ensure transparency [and] co-ordinate even better at European level".