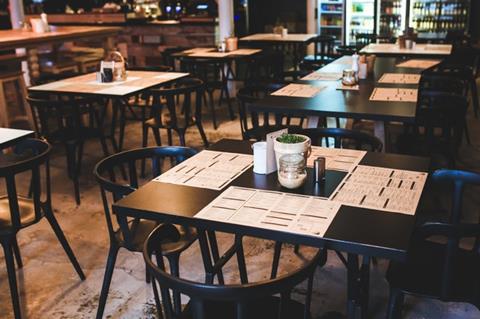 Food manufacturers supplying the hospitality sector have told the chancellor they are "facing a financial cliff edge" unless they receive urgent support from government.
A coalition of 18 trade associations including the British Frozen Food Federation, Federation of Food and Drink and Federation of Wholesale Distributors has written to Chancellor Rishi Sunak outlining a series of measures designed to help "many food producers on the verge of going out of business".
The letter warns that "without financial support many pubs, care homes, restaurants and hospitals will have no one to supply them when the economy emerges from the pandemic".
The letter written by BFFF CEO Richard Harrow requested grants for companies that were forced to waste fresh short-life stock, extend business rate exemption, increase the level of Additional Restrictions Grant, and give ongoing capital and tax break allowances.
"England's national lockdown, plus restrictions in the UK's other nations, have been devastating for our many businesses supplying the hospitality and foodservice markets and they are facing a bleak winter," Harrow wrote. "Many of the 'squeezed middle' are often successful family-owned SMEs and are now facing collapse. Support for this important sector is vital to ensure they continue to manufacture and supply world leading products, making the market so dynamic and vibrant. Their continued existence will be critical as the economy starts to recover."
He added that businesses in the squeezed middle have not been given the same level of government assistance as the businesses they supply, despite being as hard hit by the restrictions.