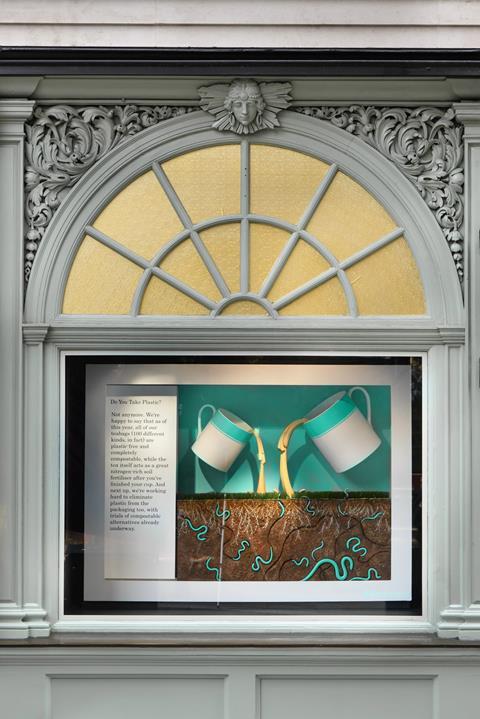 Fortnum & Mason has made its own-label tea plastic-free and home compostable as part of its push to become more environmentally friendly.
Its 100-strong tea range is now created using plant-based compostable materials and the retailer is in the process of switching the remaining plastic packaging of its tea SKUs to a plant-based and compostable alternative.
The Queen's grocer also has plans to replace its plastic Food Hall bags with chlorine-free paper ones "in the coming months" followed by plastic-free gift bags, boxes and ribbons. Just over three quarters (76%) of its packaging is currently recyclable.
The changes come as part of its Future Matters programme, which has seen the luxury retailer commit to remove single-use plastic and replace it with plant-based, domestically compostable alternatives by 2025. Trials of compostable alternatives were already underway, it said.
It has installed window displays illustrating the scheme and marking its key achievements and aims at its Piccadilly flagship. This includes a portrayal of tea being poured into the ground to reflect its tea selection becoming plastic-free and home compostable, a whale made from recycled plastic from the retailer itself designed to depict that it has removed 140 tonnes of single-use plastic from its stores each year, which is roughly the same weight as a blue whale, and a precarious tower of giant used dishes to mark four years of its ongoing partnership with food redistribution charity The Felix Project. Fortnum & Mason donated the equivalent of approximately 29,756 meals through the charity last year.
"Fortnums is a family-run business with a long-standing commitment to innovations in sustainability," a Fortnum & Mason spokesman told The Grocer. "We believe that customers should be able to enjoy our teas without the teabags lasting hundreds of years. This transition also allows the customer to dispose of the teabags in their food waste and to use the tea leaves in their home compost."
Zia Zareem-Slade, customer experience director at Fortnum & Mason, added: "We have a rich history of not only championing traditions but also driving innovation to stay relevant in our ever-changing world. And although our ambitions for progress are large, it is the small and frequent steps taken on a day-to-day basis here at Fortnums that makes the difference and we thought it was time to share some of those changes with people."
The move comes as Fortnum & Mason reported its first post-tax loss in a decade due to the ongoing effects of store closures in response to the Covid-19 pandemic. Profits were down £282,000 for the year to 31 July 2020, from £9.3m in 2019. Sales were running 14% ahead of its 2019 levels before the outbreak struck, but finished the year just 1% up at £139.2m, and it took a £2.1m hit at its Piccadilly and Royal Exchange branches alone.
Its online sales mix increased to 67%, compared with just 12% in 2019.