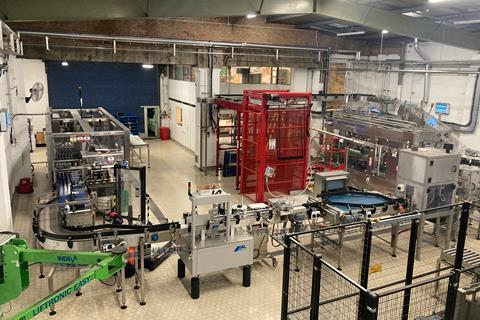 Fourpure Brewing Co has completed a massive £2.5m makeover at its London base.
The Lion-owned craft brewer has installed new kegging and canning lines it said would help it keep up with the surge in demand for canned brews amid the pandemic.
The brand's new kegging system made use of "advanced cleaning equipment" which sterilises kegs with pressurised steam at 130°C. Fourpure said this would help "increase the efficiency of Fourpure's production and improve flavour retention in keg".
A new, "optimised" canning line, meanwhile, would increase production speed and performance, it added, with "more flexibility for in-line labelling of cans".
This expansion – a long-running project which kicked off in 2019 – has seen Fourpure expand into two new units on the industrial site in Bermondsey where it is based, creating a new purpose-built packaging area.
The upgraded facilities would "form a crucial part of our continued expansion and future success", said supply chain director Frank Markham.
"The demand for our canned beer has doubled since the beginning of the Covid-19 pandemic, and the improved facilities mean we can fulfil this increase in sales, while still meeting world-class hygiene and safety standards."
Prior to the pandemic, Fourpure mounted a major rebrand of its entire range, rolling out new branding it said would better represent "where the craft beer movement is at now".