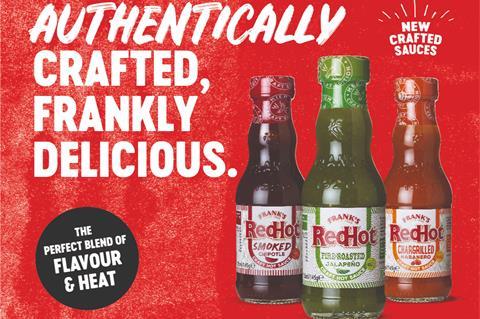 Sauce mainstay Frank's RedHot has added a trio of 'craft' sauces to its range.
The new sauces are: Smoked Chipotle, Fire Roasted Jalapeño, and Chargrilled Habanero.
Smoked Chipotle was "a mild but complex, smoky sauce", said the brand, while Fire Roasted Jalapeño was "a medium heat, rich sauce".
Chargrilled Habanero, meanwhile, was "hot" and "fruity".
The sauces are touted as containing no artificial colours or preservatives. They are suitable for vegans (rsp: £1.99).
Frank's owner McCormick UK marketing director Anca Secara said the NPD would tap a growing number of Brits experimenting with hot sauces in home cooking.
The range "offers our consumers a perfect acccompaniment to their dishes", she said.
They have rolled into Waitrose, Morrisons and Asda.