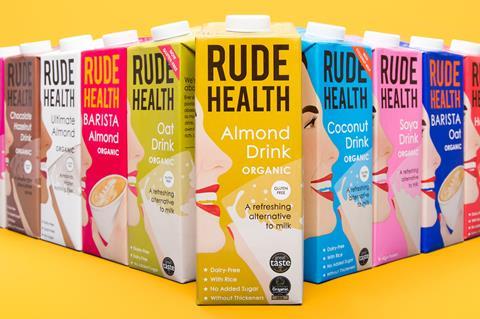 Rude Health has become the latest food and drink brand to achieve B Corp status – marking "16 years of doing business the bright way".
Following "three months of rigorous testing by B Corp", Rude Health was "now accredited as a business that balances people, planet and profit" it said.
The brand, which makes free-from cereal, snack bars and dairy alternative drinks, "performed exceptionally well in areas including workers and environment" it added.
Rude Health's certification means it joins more than 70 other food and drink businesses that meet B Corp's standards of social and environmental performance, public transparency and legal accountability.
B Corp status was "a brilliant way of contextualising, recognising and celebrating how we do business" said Rude Health co-founder & brand director Camilla Barnard.
"It covers everything from choosing high-quality ingredients through to offering enhanced parental leave, using 100% renewable electricity in our office, making our dairy-free drinks packaging from 88% renewable materials, and donating 5% of our profits to charity," she added.
Rude Health – based in London and Amsterdam – has a portfolio of more than 70 free-from products, which are listed in 45 countries. In October, it revamped its cereal range, reformulating all but one variant to be plant-based.
In 2019, PepsiCo invested in Rude Health via its venture capital arm, Ventures Group, in a deal valuing the UK brand at more than £70m. The US supplier acquired a 10% stake for £7.2m.