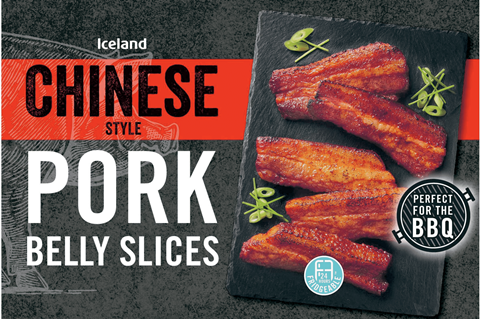 Frozen food has seen a sharper year-on-year decline in sales than other grocery categories as shopper habits return to normal, latest Kantar data shows.
In the 12 weeks to 13 June, frozen sales fell 5.7% in value and 7.1% in volume, while fresh & chilled saw 1.2% value decline and a 5.1% dip in volume.
Frozen also declined faster than total grocery including all fmcg sales, which fell 3.2% in value and 2% in volume.
Frozen enjoyed a huge surge in sales early last year as shoppers spent an extra £131m filling their freezers in the four weeks ahead of the first lockdown. Kantar noted the 12-week figures could be considered skewed by the slower growth seen by fresh & chilled in 2020.
Looking at the year to 13 June, the latest Kantar data shows frozen remains ahead of total fmcg, up 7.8% in value and 5.2% in volume compared to 6.9% and 4.8%. Fresh & chilled saw faster volume growth over the year at 6.9% but slower value growth at 7.3%.
"We are now seeing the value growth of the frozen market slowing down as shoppers return to more normal shopping patterns," said the Kantar report.
"However, the market remains nearly £1bn higher than the 52 weeks ended June 2019, with an additional 241 tonnes of volume."
The average price of frozen food on 13 June stood at £3.12 per kg, up 2.4% year on year. Fish saw the sharpest inflation, up 2.9% to £7.49 per kg.
British Frozen Food Federation CEO Richard Harrow said although growth of the frozen market was slowing, he believed it would remain on a long-term upward trajectory.
"Frozen food has, in the last 12 months, become the fastest growing sector in retail, after alcohol," he said. "Of course, much of this growth has been the result of the pandemic, which after the shutters came down on out of home, saw the return of the big weekly shop, from which frozen directly benefited."
He said gen Z shoppers were increasingly seeing the appeal in frozen food, adding: "Frozen has always been recognised as a great value option, but value is now combined with innovation as companies work to develop high-quality frozen free-from products, sustainable packaging solutions and plant-based meals.
"We know people across all demographics are increasingly seeking out healthy and sustainable products, so options on offer in the frozen aisle will continue to attract new consumers."
Earlier this month, Iceland launched labels telling shoppers how long frozen products can be kept in the fridge after defrosting, aiming to extend the appeal to households without a freezer.