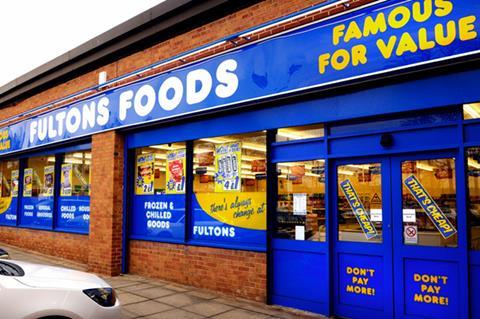 Fultons Foods' profits plummeted to less than half their previous level as stores closed and jobs were slashed before Poundland stepped in and bought the ailing retailer.
With all efforts focused on continuing to serve communities during the pandemic, Fultons opted to extend its financial year, to the end of July 2020 rather than January 2020. Nevertheless, operating profit fell to £340,000 in the 18-month accounting period, compared with £586,000 in the 12 months prior, accounts filed at Companies House have revealed.
The period saw continued difficult trading conditions thanks to "aggressive" competition as the business rationalised its store estate. It resulted in sales of £78.2m in the latest 78-week accounting period, compared with £53.4m in the previous 52-week one, the accounts said, representing a 2.4% decline pro rata.
The business had 85 stores at the end of the latest period, compared with an average of 101 during 2019.
Employee numbers had fallen to 791 by August 2020, compared with 911 in February 2019. All but three of the 120 lost jobs were in distribution and retail.
Both the reduction in sales and "significant inflationary cost pressures including the impact of the national living wage" had driven profits down, the accounts said. EBITDA was £1.5m in the 18 months, compared with £1.6m in the previous 12 months.
Poundland bought the frozen food retailer in October last year, following a deal in which Fultons had supplied the variety discounter with frozen and chilled food for a trial offering in some of its stores.
The supply deal, struck a year earlier, had reached about 70 stores by time Poundland bought the business. The acquisition enabled Poundland to plan the rollout of the offer to another 500 of its stores over five years, more than half its current estate. It had reached over 175 stores by this week.
Speaking to The Grocer shortly after the acquisition was announced last year, Poundland MD Barry Williams said it would bring "stability in a very unstable world" for staff at Fultons' depot in Barnsley. He said no more jobs would be lost and over 1,000 new ones would be created as Poundland invested £25m over the next two years.
Fultons' operating profit has been in steady year-on-year decline since 2015, when it was £1.7m, nearly three times the level of 2019. Sales have also fallen each year, from £64.1m in 2015.
A year ago, the business' accounts for 2018 said it had breached banking covenants amid intense discounter competition and mounting costs.