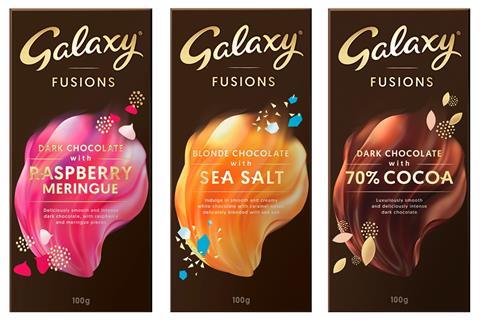 Mars has unveiled a major rebrand for Galaxy, after a disastrous year that saw the brand lose almost 15% of its value.
Galaxy – currently Britain's second-biggest chocolate confectionery brand, behind Dairy Milk – has been given a new look Mars said would "modernise the brand for a new era", with new packs set to roll out from the end of December onwards.
Mars has also launched two brand extensions in a bid to grow its appeal. The first, Galaxy Orange Block, will sit alongside the core bar and Galaxy Caramel.
Galaxy Fusions, meanwhile, is a new selection of premium chocs it hopes will lure young adults back to the brand.
It will debut in three flavours: Dark Chocolate with 70% Cocoa, Blonde Chocolate with Sea Salt, and Dark Chocolate with Raspberry Meringue.
Galaxy "must continue to evolve", said its senior brand manager Ellyse O'Connor.
"The new redesign will attract new customers and boost sales for retailers by standing out on shelves and starting conversation."
Galaxy has struggled to keep up in the supermarkets this year after Mars suffered severe supply issues throughout the early months of the year. It was absent from shelves just when demand surged in the first lockdown – which played into the hands of rival Cadbury's frontrunner Dairy Milk.
That saw Galaxy suffer a £31.2m blow to its value over the 52 weeks to 5 September, falling 14.3% to £186.6m, while Dairy Milk added £68.6m, growing 12% to £642.0m [Nielsen].
"The decline in sales is down to a lack of availability at the start of the year and the impact of the coronavirus on impulse purchases," a Mars spokesman told The Grocer.
With the relaunch underway and further NPD planned, the Galaxy brand was "well-placed to drive sales for our customers in 2021 and beyond", the spokesman added.