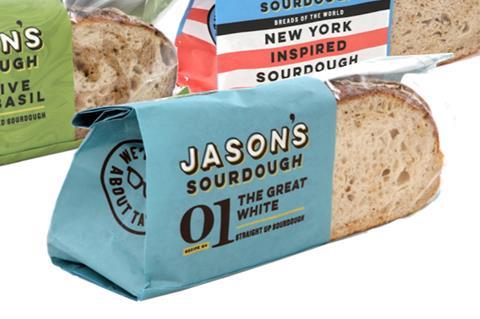 Geary's Bakery has launched a mass of new SKUs into Asda and Ocado for its Jason's Sourdough brand.
The supplier – whose first branded range of loaves was named The Grocer's Top Launch in the bakery category last year – has debuted three 'Breads of the World' into the Asda's in-store bakeries.
They are: New York Inspired, a classic white & rye sourdough with caraway seeds, Baltics Inspired, a white sourdough potato loaf with rosemary, and Italian Inspired Tear & Share, a flatbread combining sundried tomato and basil.
Meanwhile it has launched two 'Straight Up' sourdoughs and one 'Twisted Sourdough' into Ocado. The former – called The Great White and Majestic Malted – are pre-sliced and come in the "traditional artisan bread shape", while the latter contains olive and basil and had a "unique marble swirl", said the brand.
Geary's Bakery MD Jason Geary said the business was "really proud of how well received Jason's Sourdough has been over the past year, particularly given we launched in the first lockdown".
Indeed, the brand debuted in March 2020 with three Ciabattin loaves, which rolled primarily into M&S. However the brand was renamed Jason's Sourdough in November in a bid to "reinforce its craft credentials", according to the supplier.