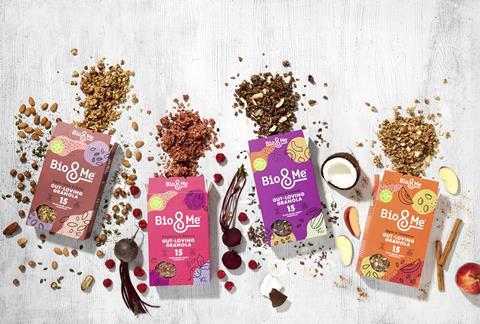 Former Vita Coco CEO Giles Brook has expanded his portfolio of fmcg brands with a new six-figure investment in Bio & Me.
Nutritionist Dr Megan Rossi launched the gut health challenger brand in November 2019 and has rapidly grown retail distribution for its range of 'gut-loving' granola, muesli and porridge including a recent launch with Sainsbury's.
Brook last month stepped back from his leadership role at Vita Coco after 12 years as European CEO to focus on his personal portfolio of investments in UK fmcg start-ups.
He joins Bio & Me as lead investor and advisor, with his six-figure backing to be used to raise brand awareness and help with new product launches.
Brook will also lead the business' first significant external fundraising, planned for the second half of 2021.
"I firmly believe gut health is going to be a bigger macro trend than protein and have been assessing the market for some time," Brook said.
"Bio & Me is by far the strongest proposition I have seen, based on the fact it brings a consumer centric credible, science-based food to the market."
Rossi, who owns the Gut Health Clinic and is the best-selling author of 'Eat Yourself Healthy', created the plant-based brand to promote the importance of gut health.
A four-strong range of granola launched in Booths and Planet Organic in November 2019, with the expanded range of muesli and porridge now available in Sainsbury's, Waitrose, Amazon, Selfridges and Whole Foods Market.
"To have someone of Giles' abilities and track record onboard the Bio & Me team is a bit of a dream come true," Rossi said.
"Giles's proven ability to grow start-ups is just what we need to grow Bio & Me and help more people improve their gut health."
Bio & Me co-founder and CEO Jon Walsh added Bio&Me had thrived during the pandemic as consumer interest in gut health continued to grow.
Sales at the business have soared in 2021, growing 265% in January compared with the same month a year ago.
"We have seen our sales online surge – and now that retailers can launch new brands again, we are benefiting there, too," he said.
"With Giles coming onboard, it all makes for a very exciting time for Bio & Me."
Brook, a former Grocer Gold Award Entrepreneur of the Year winner, has a long history in the food and drink industry, including four years as commercial director at Innocent. He was also a founding partner at Urban Fresh Foods, the company behind kids' snacking brand Bear, which was sold to Lotus Bakeries for £71m in December 2015.
He has since built up a portfolio of investments in fmcg challenger brands, including Pip & Nut, Dalston's Soda, Presto, Edgard & Cooper, Bepps and Sir Kensington.
"I'm really excited to be joining Megan and Jon so together we can hopefully make Bio & Me one of the next big stories in fmcg," Brook added.