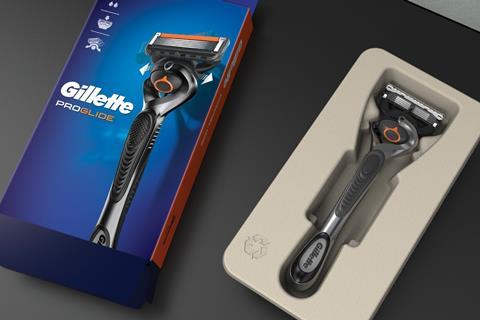 Gillette has put its core lineup of reusable razors into cardboard packaging, in a move expected to eliminate more than 66 tonnes of plastic.
The fully recyclable new packs are rolling out from today (10 February), made with responsibly sourced paper. They have also been designed to deter shoplifters. "It's incredibly difficult to rip the top off the pack," said Gillette brand director Matt Thomas. "It's amazing how much R&D goes into developing a cardboard box."
The change from plastic packaging comes after a shopper survey by the P&G shave brand found that recyclable packaging was one of the most important factors when deciding to buy a bathroom product for 55% of respondents. And 69% said they would be more interested in buying a product if it was in sustainable packaging.
Men wanted "to shave with confidence knowing the products they're choosing come with responsible impact" said Thomas. "As the biggest brand in male grooming, we know we have a responsibility to drive significant change in the category and these upgrades across our packaging and razors are the first significant step in that journey."
The move is part of Gillette's broader sustainability commitment to use fewer resources by the year 2030, improving its environmental footprint across areas such as packaging, product waste, water conservation, manufacturing operations and supply chain.
As well as sustainable packs, Gillette's range has given a makeover and an upgrade. The handles for the likes of Fusion 5, Safeguard Sensitive and ProGlide were "more sleek, more monochrome" Thomas said. "We're not just talking a tweak here and there, but a full upgrade across every aspect of our refillable razors: new blades, new handles, new recyclable packaging."
The lineup had also been simplified to make it easier to shop, he added. It has been cut from 11 lines to eight, with Mach 3 Start among those axed.
Rollout of the new-look razors will be accompanied by 'Best Face Forward', a push that highlights how "our faces are at the centre of everything we do now more than ever".
It comes after the value of Gillette razors and blades in UK grocery fell by 12.5% (£20.7m) last year [Nielsen 52 w/e 5 September 2020].