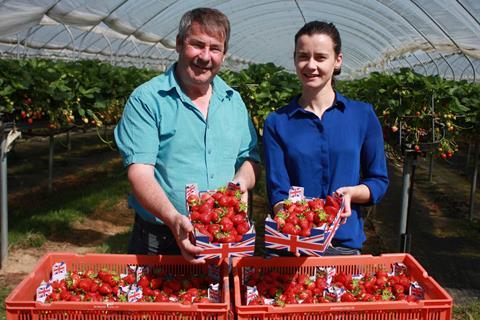 An abundance of strawberries has hit retailer shelves after warm, sunny weather brought on the delayed crop.
The UK season usually begins with June-bearing strawberry varieties in late spring, before transitioning to ever-bearing ones from July. However, it was delayed by more than a fortnight owing to unseasonably cold weather during the spring months.
Thanks to a hot spell over the past week, the crop has come on, with large volumes expected in the coming weeks, according to British Summer Fruits chairman Nick Marston.
"Because it's a late season, when production does start, it starts in quite a bit of volume. Having said that, demand is in-step with supply across the industry," he said. "You will still get the same amount of fruit, you'll just get it in two weeks less time [than in a regular year]."
Marston added that this year's start to the strawberry season had been in total contrast to 2020 when strawberries came on earlier than usual due to a hot spring, leading to a shortage of early varieties in mid-to-late June.
And in response to last week's mini heatwave, Tesco this week reported its strawberry suppliers had been hit by unexpected surplus crop.
In what it said was a bid to avert food waste, the retailer bought an extra 400 tonnes of British-grown strawberries and has slashed prices, offering a 1kg box for £3 compared with what it called its regular sales price of £2/400g.
"This year, because of the cold and damp May, we are two to three weeks behind schedule and now, because of the great weather we have an abundance of strawberries," explained owner of Kent grower and Tesco supplier BR Brooks, Alastair Brooks.
"Thanks to Tesco, any surplus British strawberries won't go to waste and the good news is that they are big, sweet and packed full of vitamins."
Waitrose said it was also selling 1kg packs and had introduced strawberries to its 'A Little Less than Perfect' range at 100 stores to help reduce food waste by offering consumers fruit with "minor imperfections".
British Summer Fruits said last month it anticipated British strawberries would be larger and juicier than usual owing to the cold temperatures seen earlier in 2021.
Growers will be hoping for another positive year of sales after shoppers spent £772m on strawberries last year – an increase of more than 10% year on year [Kantar 52 w/e 21 March 2021].
One of the contributors to this success – premium brand AVA Berries, which is owned by Scotland-based supplier group Angus Soft Fruits – has sought to generate shopper interest again this year through a new campaign fronted by etiquette expert William Hanson.
Sponsored videos posted on social media have shown Hanson explaining the most socially acceptable ways to eat the fruit, for example, disposing of stems on the top left of the plate and serving cream separately.
In 2020, AVA sold almost 4.7 million punnets between May and July – an increase of more than two million against the same period the previous year.
The berry can be found in premium retailer lines including, Aldi's Specially Selected range, Morrison's The Best range, Co-op's Irresistible range, Sainsburys' Taste The Difference range, and in M&S stores.