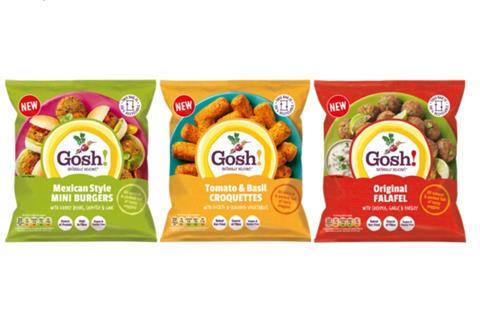 Plant-based brand Gosh is hoping to challenge Strong Roots in the freezers with a trio of completely allergen-free frozen veggie lines.
It has unveiled a trio of NPD – Mexican Style Mini Burgers, Tomato & Basil Croquettes and Original Falafel – all of which are vegan and free from the 14 most common allergens.
It marks the first time the brand has played in the frozen category. They have rolled into Lidl (rsp £2.50-£3/300g-320g).
Gosh claimed it was the first plant-based brand to bring a "clean label, allergen-free frozen range" to market, adding it had "identified an opportunity to increase its market share by meeting the evolving expectations of consumers".
Gosh marketing manager William Topp said the launch would bring "something completely new" to the frozen category.
"With an array of nutritional benefits, these new and exciting flavours are easy to prepare, suitable to be eaten at any time and can be enjoyed by the entire family," he added.
Topp said the frozen SKUs would lure a new cohort of consumers to the brand as well as appealing to a "large flexitarian audience".
As reported by The Grocer, UK sales of meat-free products have roughly doubled over the past five years.
From 2016 to 2020, three million new shoppers bought into the category and sales growth accelerated from 17.5% in 2019 to 24% in 2020.