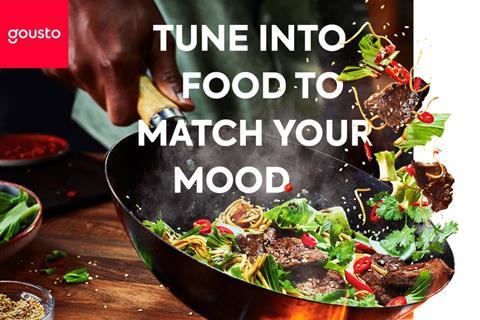 Gousto has begun providing recipes intended to match customers' music tastes in a link-up with Spotify.
It means the recipe box business can now make dinner recommendations based on customers' recent selections on the music streaming app.
Customers who have recently listened to high-energy music might be recommended a chicken vindaloo recipe. Those who have listened to music with 'high danceability' might receive a suggestion for a party dish such as coconut jumbo prawn tacos, according to Gousto.
Customers can access the feature by visiting gousto.withspotify.com and logging into their Spotify account.
It's the latest step in a tie-up which has also seen Gousto recently launch Spotify playlists designed to match its recipes, accessed by scanning a QR code that comes in its meal kits.
Gousto said its research showed 73% of home cooks like listening to music while preparing meals, while streaming of cooking-related playlists on Spotify increased by 141% in 2020.
"Our recommendation engine uses intelligent algorithms to serve up recipe suggestions that are catered to our customers' preferences," said Gousto chief technology officer Shaun Pearce.
"By linking Spotify users' music tastes and mood with our delicious recipes, the new platform will elevate Gousto customers' cooking experience and provide even more recipe inspiration."
Spotify UK/IE director of sales Clare Beddow said: "Gousto customers and Spotify users alike expect a highly personalised experience and we're excited to be able to take this to the next level through this new recommendation platform in collaboration with Gousto.
"Music and food are so closely intertwined, and to offer delicious recipes that are perfectly matched to users' musical taste is the next step in a journey of meaningful choice for both brands."
Gousto grew sales by 129% in 2020 to £189m, having doubled its capacity during the year. The business also achieved 'unicorn status' of a $1bn valuation after raising £25m of new equity in November.
Last month, it came top in The Grocer's latest Fast 50, which tracks the fastest-growing businesses in fmcg, with a two-year growth rate of 89%.