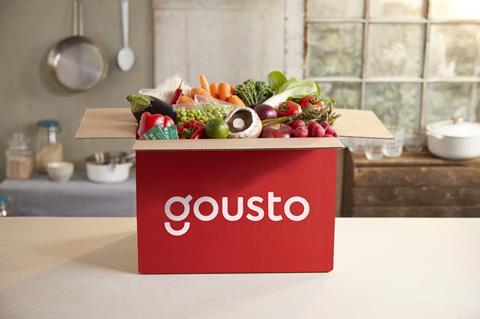 Gousto is claiming a first for a meal kit business with plans to reroute failed deliveries to food redistribution charity FareShare.
Meal kits that cannot be delivered to customers will instead be taken by Gousto's courier partner DPD to a FareShare warehouse. From there they will be donated to charities and community groups that support vulnerable people across the UK.
Meal kits will still be left on doorsteps of customers not at home, but in cases where this is not possible they will go to FareShare. Reasons for such failed deliveries include customers providing an incorrect address, the driver being unable to gain access to a block of flats, order cancellations while a delivery is in transit, and unavoidable delays caused by road closures. Previously the undeliverable meals kits would have been destroyed.
The initiative is launching only for meal kits delivered by DPD, Gousto's courier partner on Sundays – one of the busiest delivery days for Gousto – and bank holidays. At other times Yodel acts as Gousto's delivery partner.
The scheme, which is due to launch next month, is also intended to scale up as Gousto opens two new fulfilment centres in Thurrock and Warrington by the end of next year. The company currently has two fulfilment centres, in Lincolnshire.
Gousto claims as little as 1% of food goes to waste at its fulfilment centres, thanks to the use of artificial intelligence to predict weekly order volumes and prevent over-ordering from suppliers.
The meal kit business began working with FareShare in December 2020 to redistribute any usable surplus from fulfilment centres. Gousto has since donated a claimed 78.7 tonnes of food to 1,629 charities as a result.
"Food waste is a huge issue within the traditional grocery supply chain," said Gousto chief product officer Sally Matthews.
"We're proud to operate with less than 1% surplus food but there's always more to be done.
"By partnering with suppliers like DPD who share our ambitions to create a more sustainable supply chain, and with the help of amazing charities like FareShare, we can make a real difference. There are no excuses for inaction and we hope others in the industry will set up similar operations."
DPD head of CSR Olly Craughan said: "We're thrilled to have taken our day-to-day operations with Gousto to the next level, allowing us to redistribute surplus food to FareShare and those in need, whilst combating waste.
"We're looking forward to scaling the operation and encourage others to follow suit."