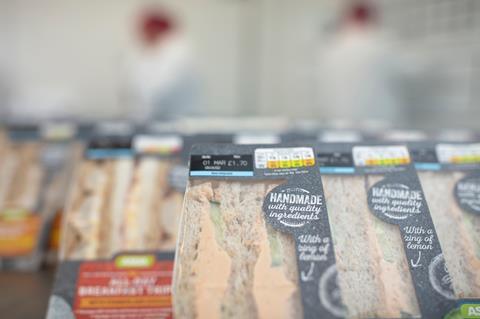 Greencore has posted "strong revenue momentum" in its third quarter, with group pro forma revenue 53.1% above prior year levels and only 2.8% below equivalent pre-COVID levels in the third quarter of 2019.
It said progressive improvement in monthly trading has seen group pro forma revenue in June 1% above comparative pre-COVID levels in FY19
The recovery was driven by food to go, which is 91.1% above prior year levels at narrowed the gap to 2019 performance to 9.3% down.
Overall reported Group revenue in Q3 was £360.2m, an increase of 49.7% on the prior year.
Revenue in the group's food to go categories was £236.5m in the quarter, while in the first three trading weeks of July food to go sales were 7% below the equivalent pre-COVID levels in 2019.
Reported revenue in its other convenience food categories, including ready meals, were up 5.9% in the quarter to £123.7m and up by 11.1% on a pro forma basis.
Greencore also posted positive adjusted operating profit for the quarter, in line with management expectations.
It said Q3 inflation trends in its main UK cost components were broadly as anticipated. Supply chain and labour challenges are increasing across the UK food system and the group is working closely with customers and suppliers to mitigate these challenges and to maintain strong operational service levels.
Notwithstanding the supply chain and labour challenges impacting the broader UK food industry at present, Greencore said it is confident in its ability to deliver strong year on year profit and cashflow progression in the second half of the year
The group now expects to generate an 2021 adjusted operating profit outturn of between £36m and £40m, versus previous guidance of above 2020 levels of £32.5m
CEO Patrick Coveney commented: "We are encouraged by the improvement in revenue, profitability and cash flow momentum in Q3 and the early weeks of Q4. Against the backdrop of the UK economy reopening fully, we are rebuilding our economic model effectively and sustainably with all stakeholders, supported by our long-standing customer relationships and further enhanced by the new business wins we have secured this year.
"The performance is underpinned in particular by the energy and dedication of our people. We are also delighted to have made progress in creating a fully recyclable sandwich skillet, a key commitment of our sustainability strategy. We have a strong position in the dynamic UK convenience food market and are confident about our medium-term prospects."
Greencore shares were back up 3.3% to 133.2p on today's trading update.