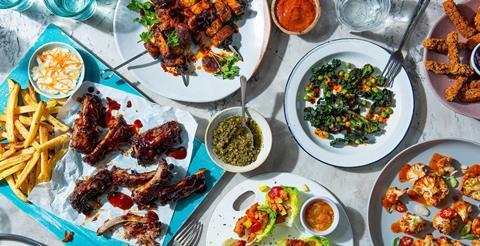 Ingredients supplier The Flavourworks has been acquired by US product development group Griffith Foods for an undisclosed sum.
The Somerset-headquartered business, which makes a wide range of flavoured butters and oils, marinades, glazes, rubs and sauces for supermarkets and manufacturers, will become part of Griffith's European and African division.
The deal expands Griffith's presence in the UK, adding a second site to a base already owned in Derbyshire.
Griffith confirmed it had no plans to make any changes at Flavourworks and would accelerate investments on both sites to build future capacity.
Flavourworks started life more than 30 years ago as a Dorset-based garlic butter manufacturer and has grown to supply a large number of ingredients from its current factory in Wincanton. The business, which generates turnover of about £14m a year, recently expanded into the foodservice sector.
MD Chris Ormrod said Griffith Foods had "a strong set of company values" and a business culture very similar to Flavourworks.
"This is the beginning of a whole new chapter for The Flavourworks team and for our customers," he added. "I know one thing for certain: there will be some very exciting new ingredient combinations on the way."
Griffith Foods, which has a presence in more than 30 countries, said it had ambitious growth plans over the coming decade, which required "shared values, new technologies and partnerships to broaden knowledge, expertise and fuel innovation".
Wim van Roekel, president for Griffith Foods in Europe and Africa, added: "We have long admired their strong customer focus and their product range allows us to develop the wider Griffith Foods offering and accelerate our European growth plans."
Founded in 1919, Illinois-headquartered Griffith Foods is a family owned developer and manufacturer of customised food ingredients for large processors, retailers and fast-food chains.