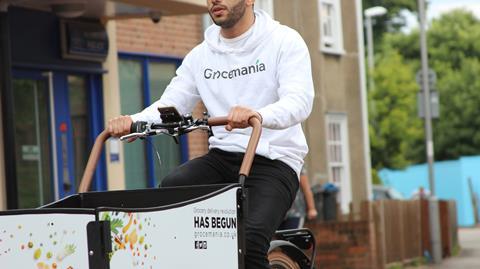 On-demand delivery app Grocemania has kicked off a major dark store expansion, cutting out retailers for the first time with 18 planned new hubs.
The first dark store opened this week in Kingston, with a second to follow in Twickenham in July. The remaining 16 hubs will be rolled out in partnership with Valli Forecourts by December.
Customers within the Kingston and Twickenham area will be able to receive groceries within 10 to 15 minutes.
The new division will operate alongside Grocemania's existing tie-ups with more than 300 independent retailers and food producers across Nisa, Budgens, McColl's and Spar forecourt stores.
Booker will be supplying the dark stores, alongside local fresh producers. Grocemania said it had invested in state-of-the-art PoS technology to facilitate stock management and help process transactions quickly.
Grocemania operates in London, Bristol, Brighton, Sheffield, Leeds, Cardiff and Birmingham. Launched in 2018, the business has previously offered delivery within an hour from physical stores. Its new move follows a flurry of launches of dark store operators in the capital, such as Getir and Gorillas, promising delivery in as little as 10 minutes.
Grocemania's expansion also comes after the startup secured £173,000 in funding earlier this year.
"Dark stores have disrupted the food delivery sector in recent years," said Grocemania founder and director Askar Bulegenov. "They offer local stores a more cost-effective storage system, while typically providing consumers with a quicker, more efficient service. It was a logical next step, therefore, that Grocemania would expand into this exciting space."
He added: "We are constantly looking for ways to improve and innovate our offering, and our dark store expansion strategy will help us do just that. With an even quicker delivery service for users, and superior stock management technology, we are confident that our plan will allow us to better support both local businesses, and satisfy the needs of our valued app users."