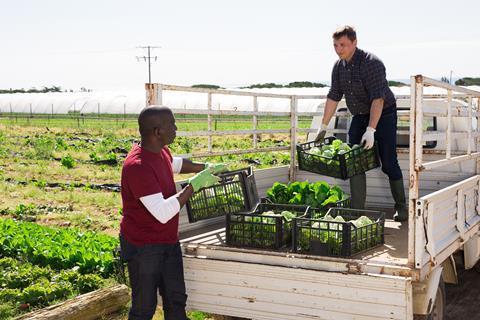 Growers have raised concerns over updated government rules, which say seasonal workers coming from red list countries must use 'quarantine hotels' rather than isolate on farms.
The new guidance, added at the beginning of June, said any arrivals from a red list country, or those who had been to a red list country in the 10 days before entering the UK, would have to go into 'managed quarantine' for 10 days.
Currently, the only exceptions to this rule have been for nurses arriving in England to work for the NHS and students travelling to English boarding schools.
But growers have called for seasonal agricultural workers to also be granted an exemption.
"It's an ongoing concern. Quarantining on farms is something we've been discussing with government and trying to seek pragmatism and common sense [on]," said NFU horticulture and potatoes board chair Ali Capper.
Quarantine hotels have proven controversial, with stories appearing in a number of media outlets of poor conditions and high prices. But Capper insisted the industry would follow the new guidance.
"The rules are the rules and as an industry we've got to work within them. [The pandemic] is a fluid situation and I hope that by the time there's any further significant changes, most of the seasonal workforce will be here."
While the UK has been grappling with thousands of new Covid-19 cases in recent weeks due to the spread of the more virulent Delta variant, key countries for seasonal labour – such as Bulgaria and Romania – are yet to be hit by it.
There could be serious consequences if the variant does arrive in these states owing to their slow vaccination rates. According to Reuters, Bulgaria has thus far administered at least one dose of Covid-19 vaccine to 11.5% of its population while in Romania the figure is 22.1%.
It comes as a new report from the University of Exeter warned the government and industry must improve the image of agriculture if they wish to prevent future labour shortages.
Published today (17 June), the 'Farm labour in the UK: Accessing the workforce the industry needs' report stated that the industry's poor image – which stemmed from associations with low pay, long hours and a stigma of it being 'unskilled' employment – needed to change.
Suggestions for how to achieve this included getting the Ministry of Defence to promote post-armed forces careers in the sector and farms to open up opportunities to new groups, like ex-offenders and those from disadvantaged backgrounds.
The report said it believed labour issues would become more acute due to Brexit, the coronavirus pandemic, fluctuations in the value of the pound, the improvement of the economies of key countries for the recruitment of labour in Eastern Europe and new immigration laws.
"farming is an 'invisible career' to anybody who isn't from a farming background, and this needs to change. Potential career opportunities in agriculture go far beyond simply picking fruit, and often involve working with complex technology and machinery, with some farm managers earning over £90k a year," said the report's co-author, social scientist at the University of Exeter's Centre for Rural Policy Research, Caroline Nye.
"It should not be assumed the rise in unemployment resulting from the COVID-19 pandemic will automatically create interest in seasonal worker roles. The squeezing of price margins by supermarkets and a consumer base accustomed to cheap prices currently prevent worker pay from going above a certain level."
Recommendations also included getting supermarkets to participate in consumer awareness campaigns directly associated with corporate responsibility and fair worker treatment. The report said the mults should introduce corporate human rights policies into their overarching policies, making living wages for all food workers a key priority.
It added that the definitions and value placed upon the skill levels of farm workers ought to be revisited by the Migration Advisory Committee, which currently categorises such workers as 'unskilled'.
In response to the report, a Defra spokeswoman said the government would always seek to ensure UK producers had the support and workforce.
"The Government is encouraging the sector to make employment more attractive to UK domestic workers through offering training, careers options, wage increases and to invest in increased automation technology."