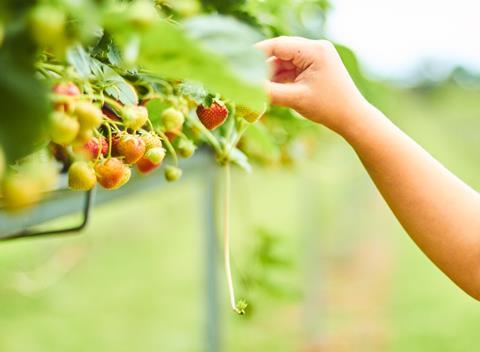 British fresh produce supplies could come under further threat due to a lack of clarity from government over the future funding of research and development projects, growers have warned.
In the wake of votes by growers in the horticulture and potato sectors to scrap the compulsory AHDB levy in the spring, funding beyond this financial year for projects and trials in areas such as robotics and crop protection has been placed in jeopardy.
With Parliament in recess until September, growers now fear there will not be enough time to implement a new body or mechanism to continue such projects.
Ali Capper, chair of the NFU's Horticulture and Potatoes Board, said a hiatus in R&D work could place the industry at risk of pests and diseases.
"We've got a lot of challenges at the moment – pest and disease challenges, a lot of margin pressure and cost inflation," she said.
"Traditionally growers in our sector deal with those types of pressures by producing more from less. That's about productivity. [Pests and diseases] directly affect productivity, so we can't allow [them] to be another problem. We've got to continue to find solutions."
One potential solution has been brought forward by the Growers' Better Levy Group – of which Capper is a member – which campaigned to keep a reformed AHDB levy.
The coalition of leading independent and representative business operators in the horticulture and potato sectors has called on the government to support the creation of a new grower-run agency that would take a collaborative approach to R&D.
Earlier this week, GBLG met with Defra minister Victoria Prentis to outline its vision for the new agency, which would be funded through an investment levy.
"The agency could emulate models that already exist in both New Zealand and Australia, suggested GBLG chairman Phil Pearson. "The R&D would be directed by an elected, independent board of representative growers who would decide on research priorities and projects, in consultation with the wider industry, including businesses and grower associations."
But there are concerns from some quarters that it might already be too late to secure this outcome. "People are being laid off. I wouldn't wait until I was out of the door clutching my P45 before I started looking for another job. Scientists will go off to other industries and areas of work," said British Summer Fruits chairman Nick Marston.
A Defra spokeswoman said it would bring forward legislation to scrap the compulsory levy "later this year", and said the department was working with growers sector on finding a solution "to ensure the continued stimulation and innovation of the sector".