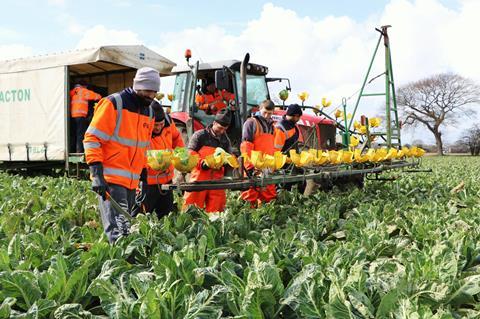 Crops could be left to rot in fields and supermarket shelves left bare unless retailers help growers meet soaring production costs, the Brassica Growers' Association has warned.
An accumulation of issues, ranging from the sector-wide shortages of seasonal labour and HGV drivers to a dramatic rise in machinery and fertiliser prices, has seen UK brassica growers increasingly struggle to cover their operating costs, the trade body warned this week.
The organisation estimated labour costs had risen by as much as 15% year on year as growers attempted to attract staff. It put the rate of staff shortages across the industry at around 10%.
Haulage rates had also risen by 10% and could increase further, the body said, while difficulties arranging contracts was making 24/7 supply difficult.
Meanwhile, due to shortages of materials and components caused by ongoing disruption to global supply chains, the cost of some machinery had gone up by as much as 40%. There have also been reported shortages of packaging materials, such as cardboard.
"In order to accommodate these price increases, there needs to be a little bit of inflation or an improvement in the returns [going] back to the growers," said Jack Ward, CEO of the body's parent, the British Growers Association.
"It's always tough trying to get an increase in the cost of food. But we can't have a situation where the costs of producing food far outweigh the returns."
Ward added that growers were unable to accommodate the added costs themselves because they were already working on "paper-thin margins" whereby there was "nothing left to be squeezed".
Reflecting on the food industry's labour shortages, Ward said the anticipated challenges of recruiting seasonal staff had only been part of the problem, with staff retention proving to be an even bigger issue.
He added some growers had been caught out by seasonal workers handing in transfer requests to other farms as they sought out better pay or lifestyles in other parts of the country.