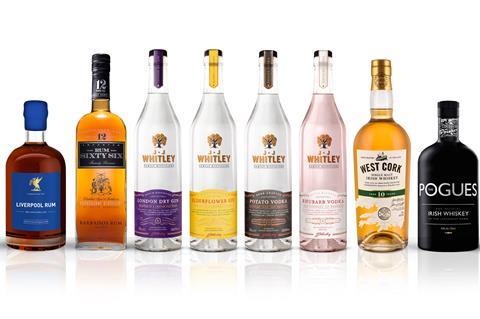 A thirst for premium gins and vodka during lockdown has helped Halewood Artisanal Spirits increase revenues 20% to £401.5m.
The distiller and drinks distributor's on-trade and global travel retail businesses were badly hit by Covid restrictions in the year to 27 June 2020 but a strong performance in supermarkets and in its online shop made up for the shortfall.
Halewood said the jump in sales was driven by increased demand for artisanal spirits in the core UK, with South Africa – its second biggest market, worth £117m in 2020 – also accounting for 11% of total growth as Belgravia Gin proved popular.
However, adjusted EBITDA fell 18% to £21.7m as the group was hit by £7.2m of restructuring costs related to the Covid pandemic, as well as a greater investment in marketing. The figure was still the second highest in the family run group's history after last year's record results.
CEO Stewart Hainsworth said: "Halewood has delivered its second-best trading year in its history with an excellent growth in artisanal spirits.
"The company remains committed to substantial marketing support for its core brands despite the very challenging background of Covid-19. We quickly refocused our efforts on channels that were open to trade whilst taking the difficult decisions to cut back on our operating costs in areas with less potential."
Halewood owns 11 artisanal distilleries across the UK, Russia, Australia and South Africa, as well as running the Hawkshead Brewery in Cumbria. Its portfolio of brands includes Whitley Neill, Dead Man's Fingers, The Pogues Irish Whiskey and Crabbie Whisky.