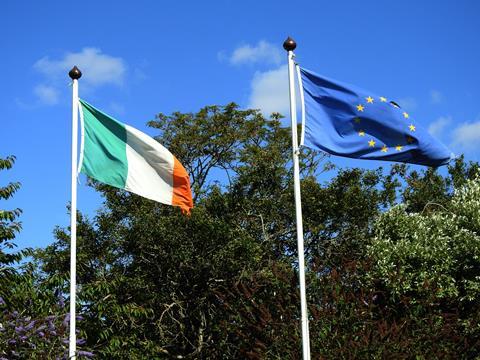 Almost half of all Irish food and drink companies exporting to the UK anticipate an increase in sales over the next 12 months, despite ongoing Brexit disruption, new research by Bord Bia has found.
Businesses expressed "positive optimism" for the future as the UK continued to be one of the most important markets for sales and growth across almost all Irish food and drink categories, said Bord Bia's latest Readiness Radar.
The study, based on an ongoing survey of 110 Irish businesses in food, drink and horticulture, represented businesses that made up an estimated 60% of all Irish food and drink exports, Bord Bia said.
And while 90% of those exporting to Britain had reported an increase in costs post-Brexit, some 82% had previously developed "robust" plans to meet the challenges of the host of regulatory and legislative issues they had faced.
Specifically, seven in 10 companies revealed that they were well prepared for processing GB customs documentation. Some 78% of Irish businesses expressed a positive outlook for the next 12 months, while 46% anticipated an increase in sales thanks to existing strong trading relationships with GB customers.
In the longer-term, eight in 10 Irish businesses were optimistic about trading prospects for the next three years, Bord Bia said, while almost all expected Covid-19 to remain a significant risk to their business over the coming months.
And after more than a year of operating during the pandemic, 93% claimed to be much more prepared for the ongoing risks associated with Covid-19.
"We are now six months into trading in a post-Brexit era which has brought about significant change and unprecedented challenges," said Bord Bia CEO Tara McCarthy.
"Yet the fact that almost half of all Irish companies exporting to Britain anticipate an increase in sales to the UK in the next 12 months is testament to the resilience of the Irish food and drink industry and the strong relationships we have with customers in Great Britain," she added.
"What has also emerged as a key enabler for Irish businesses is the desire and availability of dedicated insight into the UK market. As a critical area for support and development in the future, Bord Bia's UK-based Thinking House research centre will continue to provide world-class insight to enable stronger product innovation and the development of better customer relationships for Irish food and drink exporters to the UK."
Insights to be garnered from the centre included a strong continuing demand from UK consumers for Irish produce, with 88% saying they would continue to seek out Irish food and drink.
"It has been a really difficult year for food and drink businesses operating in the UK's retail and foodservice channels," said Bord Bia GB manager Donal Denvir.
"The determination, resilience and agility of the Irish food and drink companies we have supported over the past year is truly astounding. As a result of robust Brexit planning, new businesses and new revenue streams have emerged for many companies."
Denvir also cited progress around NPD – with 54% of businesses increasing their investment in new products – in addition to the growth of DTC and the pivot from foodservice to retail as key highlights for Irish businesses.
"So much progress has been made during an unstable year and our businesses are feeling well prepared for the market challenges and opportunities of tomorrow."
Sustainability also remained "crucial and is by far and away the most significant and the most widely accepted challenge facing the global food and drink industry", Bord Bia said.
Some eight in 10 companies considered sustainability spend to be an investment as opposed to a cost, while three in four had verified sustainability measures in place. About 85% of those surveyed were active members of Bord Bia's Origin Green programme.