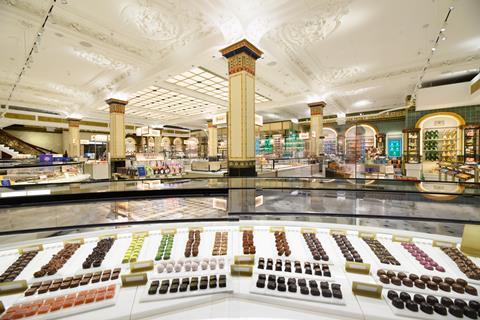 Harrods has completed the four-year revamp of its food halls, with the opening this week of its dedicated chocolate hall.
The restoration of the hall is part of a £300m investment in the Knightsbridge store, much of it focused on the food halls.
In-store theatre plays a major role in the new-look Harrods Chocolaterie, which has been designed to reflect the Edwardian style of the original site.
It features chefs making confectionery such as fresh bonbons and filled bars, while the high-end retailer has partnered with Belgian chocolatier Godiva to create a dipping station where customers can select fresh strawberries to dip into Godiva chocolate.
The hall contains 11 concession boutiques including William Curley and Pierre Marcolini, and sells luxury brands including To'ak, which is made with a rare variety of cacao beans using a fermentation process.
Harrods' own-label chocolate lineup includes its signature Gold Bar, supplied by an independent family-run business in Belgium.
"The opening of our redeveloped chocolate halls is a perfect demonstration of what Harrods does best – harnessing the greatest strengths from our heritage while reimagining luxury for a modern customer," said Harrods MD Michael Ward.
Harrods opened its first confectionery counter in 1870, before beginning in-house chocolate production in the early 19th century. The business describes itself as the only UK department store to make and sell its own chocolate in-house.