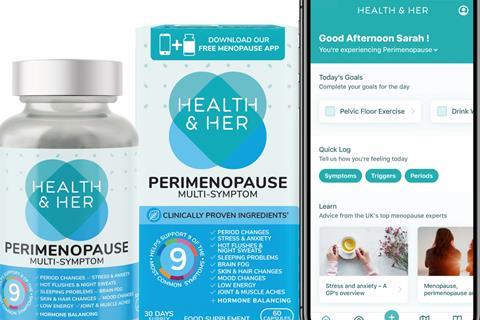 Health & Her has launched a supplement with its own support app, which the menopause care startup claims is a first for any fmcg category.
Perimenopause Multi-Symptom capsules features a blend of phytoestrogens, vitamins, minerals and herbs to support the nine most common symptoms of perimenopause – including hot flushes, mood changes and low energy.
The vegan supplement (rsp: £19.99/60 capsules) is available from Sainsbury's, Superdrug, Amazon and Health & Her's online store.
"There are currently 2.8 million menopausal women in the UK who are lacking support in the supplement category" said Kate Bache, CEO of Health & Her. This presented "a big opportunity for retailers and brands to support their health needs more effectively".
"We have collected more than 80,000 women's symptom profiles to identify the right symptoms to develop our supplements, so we know we are providing a solution that millions of women are in desperate need of," she added.
Perimenopause Multi-Symptom comes in conjunction with the free Health & Her Menopause App – "the first ever personal trainer for menopause, designed to support and empower women to build positive lifestyle habits and put them back in control" said the brand, which launched in March 2019.
Available in the Apple and Google Play stores, the app offered "a personalised menopause management experience" Health & Her added. Daily symptom assessments are aimed at helping women understand where they are in their "menopausal journey" and how their symptoms can be improved.
The app also offers a selection of exercises, including cognitive behavioural therapy for stress and anxiety, deep breathing, and pelvic floor training to help with sensitive bladder.
And it has a period tracking facility, which enables users to record and monitor perimenopause-related cycle changes.
"The app not only supports women through their menopause but has a dual purpose of driving shopper loyalty," Bache said. It would help users "stick to a regime with daily supplement reminders, will help women improve their lifestyle with simple tools and insights and encourages shopper loyalty through repeat purchase reminders".