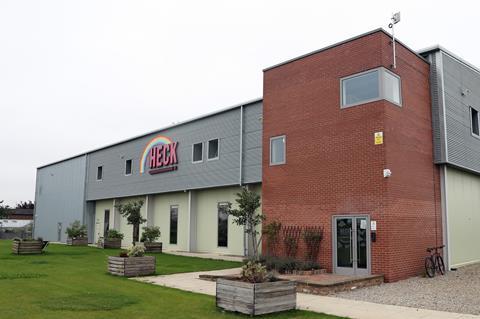 Sausage brand Heck has started resorting to delivering its products directly in a bid to circumvent the food sector's crippling shortage of hauliers.
With the Road Haulage Association estimating the UK is some 100,000 lorry drivers short due to the effects of Brexit and the pandemic on its workforce, Heck co-founder Andrew Keeble said the brand would deliver a shipment this week driven by his son Roddy.
The Yorkshire-based supplier had been forced to take matters into its own hands following numerous failed requests for drivers, he added.
"We've tried our regular haulier, we've tried outside hauliers, but there is no availability, they all just laughed at me when I said I wanted a lorry tomorrow night."
As a result, Roddy, who possessed a class one HGV licence, was due to take a shipment of Heck's new cooked sausage range from its Bedale base to its contract cooker in Enfield on Tuesday "just [so we] can get the stuff out on the road", Keeble said.
"It's getting that bad, that's the only way we can do it. Everyone has their view on why there are shortages but the truth of the matter is a huge amount of eastern European people have gone home and don't want to come back again – they feel unwelcome after Brexit, which is a shame," he added.
"The disparity in wages has narrowed in a lot in places like Latvia, so people are staying in their homelands. [Meanwhile] British workers still see the food industry as a last resort rather than a destination, which is crazy because it pays well."
Given the mounting shortages of factory workers that was also plaguing the food sector, Heck also imposed a 6% pay rise across its workforce last week, which complemented an existing annual bonus of £1,000, Keeble said.
"So we're having to pay more, but the best thing we did was invest in mechanisation. That's helped us a lot, and we would need an extra 24 people here tomorrow if we hadn't taken that decision."
NPD glut
It comes as Heck is planning a major NPD push from September, with the brand set to enter the chicken nugget category for the first time.
Heck's Crackin' Crumb Chicken Nuggets go on sale in Asda from 14 September in Chicken Italia Goujon and Peri Peri Goujon flavours, made from lean, minced British chicken (rsp: £4/400g). Heck was also planning a vegan version of the nuggets, Keeble said, adding the brand's move would add value to a commoditised nugget category.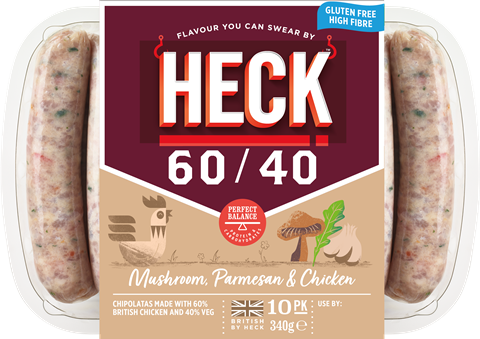 The brand is also planning to launch a pork version of its popular chicken Italia sausages in September, and will roll out an extensive range of flexitarian sausages, burgers and mince into Tesco from 20 September.
Made with a 60/40 veg/meat split, the lineup includes six different chipolata, burger and mince products.
It consists of mushroom, parmesan & chicken chipolatas and sun-dried tomato, olive & pork chipolatas (both rsp: £3/340g); red pepper, feta & chicken burgers and minted pea, spinach & chicken burgers (both rsp: £2/228g; plus a mushroom, parmesan & chicken mince and a minted pea, spinach and chicken mince (both rsp: £3/500g).
"Flexitarian products can be a big market for meat reducers," Keeble said, describing the new range as a "super premium option".