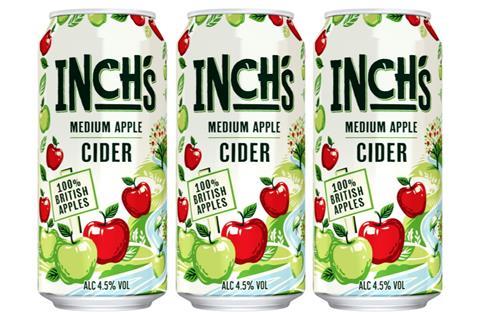 Heineken has added a new 'sustainable' cider brand, called Inch's.
The drink (4.5% abv) is touted as being made from 100% British apples from within 40 miles of the supplier's Herefordshire mill, with all the waste from the apples being converted into green energy.
Heineken said it wanted to use the brand to "recruit younger consumers into the category" by "delivering the widespread appeal of a modern, refreshing cider".
The cider was "perfectly balanced between sweet and dry for a great tasting refreshment", said Heineken, and was lightly sparkling with "fresh apple aroma".
It is also gluten-free and vegan. It has rolled out in 500ml bottles and 440ml cans (rsp: £2/500ml, £5/4x440ml).
"From sourcing to sustainability, we are progressive cider makers on a mission to do things properly in pursuit of a great tasting British cider that goes that little bit further to do the right thing," said Heineken UK cider marketing director Rachel Holms.
The launch would be backed by a "multimillion-pound" investment, said Heineken, spanning TV, video on demand and social media, as well as national sampling "focusing on the premise that the brand goes more than the extra inch for a better cider".
It comes as Heineken has been hit by beer shortages over past weeks due to massive demand from the pub trade since Covid restrictions were eased.