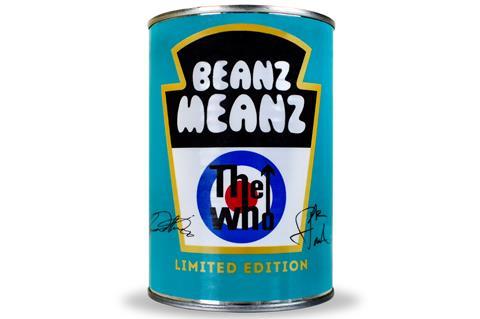 Heinz is using its DTC platform Heinz to Home to sell limited-edition tins of beans created in collaboration with rock band The Who.
The tins mark the release of an expanded edition of The Who's 1967 album 'The Who Sell Out', the iconic album artwork of which featured lead singer Roger Daltrey sat in a bath of beans holding a giant can of Heinz Beanz. Daltrey called the image "the best visual of the whole album cover".
There are 1,967 limited-edition cans available to buy from Heinz to Home for £5.49 each, with a further 57 collector's cans hand-signed by The Who's Daltrey and guitarist Pete Townshend for £57. The signed versions come in a special presentation box, "perfect for displaying in your home" Heinz said.
The hand-signed cans have already sold out.
Proceeds from the sale of the cans will raise funds for child hunger charity Magic Breakfast and cancer support charity Teenage Cancer Trust, Heinz and The Who's respective charity partners.
A giant, hand-signed, 57cm tall version of the limited-edition can is also being auctioned off for the charities.
"I ended up with a week in bed with either the flu or probably the worst cold that I've had in my lifetime and I put it down to the baked beans because they'd just come out of the fridge; they were freezing cold," Daltrey recalled. "I sat in them for 20 minutes until they had the great idea of putting electric fire round the back of the bathtub I was sitting in, which worked for a while.
"It started to heat them up but then they started to cook. So my arse was roasting while my front was freezing and within 24 hours I was in bed with the sniffles. I don't blame the beans, I blame the electric fire."
The Who's third album was released in the same year Heinz launched its current slogan.
"1967 was obviously a great time for creativity, as our famous advertising slogan 'Beanz meanz Heinz' launched that very same year and went on to be voted the UK's favourite of all time," said Heinz Beanz brand manager Lucy Cooke.