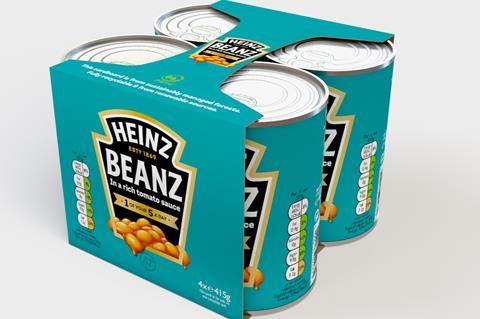 Heinz is rolling out new paperboard sleeves for its tinned multipacks in a £25m push it claims will save 550 tonnes of plastic per year.
The fmcg giant's new 'eco-sleeves' are made from fully recyclable paperboard from sustainably-managed forests. Heinz claims they use 50% less overall material than a fully enclosed wraparound box and 10% less than a "traditional" paperboard sleeve.
They have rolled out across Heinz's soups range and will be extended to its entire canned products portfolio in the mults by the autumn.
It is the result of a three-year, £25m investment into Heinz's Kitt Green factory near Wigan.
"If a package is easy to carry or transport, it is impactful to their overall satisfaction with the product," said Kraft Heinz Northern Europe president Jojo de Noronha.
"And sustainable packaging has a significant impact, too, with 71% of UK shoppers agreeing that they are more satisfied with a product.
"Grounded in shopper insight, we feel this new recyclable and easy-to-carry paperboard sleeve ticks both of those boxes and is the perfect eco-friendly solution for our multipacks."
It makes Heinz the latest brand to join the growing ranks of suppliers cracking down hard on plastic in their packaging. Past months have seen major moves from the likes of Ribena and Mondelez.