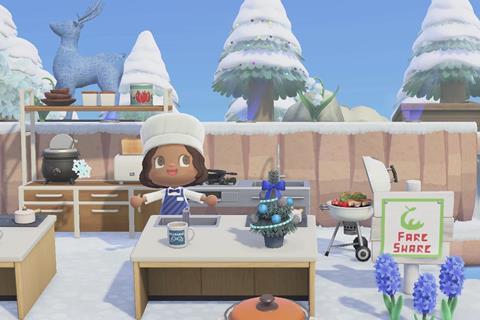 Hellmann's has teamed up with video game Animal Crossing to raise money for FareShare.
The mayonnaise brand has created its own virtual island in the hit video game, and is inviting players to explore it and donate virtual spoiled turnips.
For each in-game turnip donated, Hellmann's owner Unilever will make a donation to the food waste charity equivalent to two meals.
The island will feature unique locations for players to explore such as Hellmann's Farm, Santa's Grotto and an orchard and outdoor winter spa. It will be open from December 14-18 from 2pm to 10pm daily.
To access it, players must send a direct message to Hellmann's on Twitter to secure a timeslot and a code. Once they gain entry, they will have a 15-minute timeslot to drop off their virtual turnips.
Hellmann's has also created a range of in-game 'ugly Christmas jumper' designs for players' characters to wear, inspired by "common Christmas leftover foods such as turkey and broccoli", which come with recipes "to help people turn those leftovers into delicious meals".
One recipe – for a vegetarian nut roast toastie – was created by Stephen Fry.
Hellmann's senior marketing manager Rachel Chambers said the brand hoped to donate 50,000 meals to people in need throughout the festive period.
"In a year that has already been incredibly tough, getting nutritious food on to the plates of the most vulnerable people has never been more important and each donation from Hellmann's will help to make a real difference this Christmas," added FareShare CEO Lindsay Boswell.