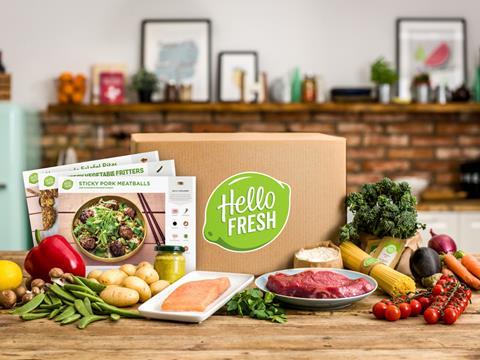 Meal kit giant HelloFresh made its first profit in the UK last year as booming sales during the pandemic led to increased profitability.
Newly filed accounts for 2020 show the listed European DTC player's UK arm, Grocery Delivery E-Services UK, saw a 140% hike in sales to £255m during the year.
Having benefited from a huge spike in demand for online foods during the pandemic, HelloFresh rapidly scaled up capacity at its own factory and brought in third-party production support. It also increased recipe choice.
Investment in meeting this growth meant gross profit margins dipped from 28% in 2019 to 23% in 2020, while capital investment soared from £1.6m to £15m.
However, the scale of the revenue growth saw an operating loss of £1.5m move into an operating profit of £12.5m – marking its first year of profitable operation in the country.
Since splitting out its UK accounts in 2014, the group had totalled pre-tax losses of around £40m before last year.
A HelloFresh spokeswoman said it was "starting to see indications of a return to normality across markets" in 2021, but noted the group was in strong growth before the pandemic and is on target to hit group-wide revenue growth of 35%-45% this year.
The company has also been continuing to invest into the UK by launching a second production facility in Nuneaton in late December and the recent launch of a second brand, Green Chef, after its acquisition of the US brand in 2018.
In May the company announced it had already distributed one million meal kits from its flagship new Nuneaton facility since launch.
The group's most recent trading update said worldwide sales continued to surge during the first quarter of 2021, with revenue up 116% to €1.44bn.