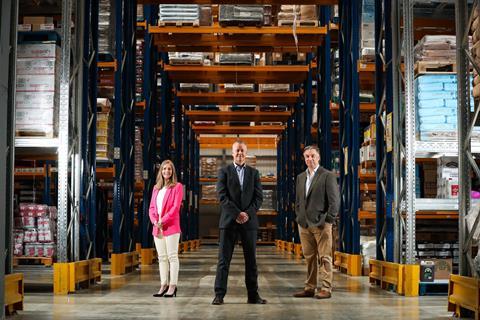 Henderson Foodservice has opened a new £16m warehouse on its Mallusk site in Northern Ireland.
The new 190,000 sq ft ambient and chilled distribution centre stocks a wider product range after the incorporation of some goods from acquired companies BD Foods and Foodco, which were introduced to the site in 2020.
A new warehouse management system has been implemented along with multi-site processes to create greater efficiencies throughout the estate.
The new building boasts a raft of sustainability and energy efficiency features, including a charging optimiser for all mechanical handling equipment and an energy-optimised refrigeration system. Artificial lighting is photo and movement sensitive and packaging waste is recycled or reused. Meanwhile, any food waste is processed for reuse via an anaerobic digestion plant for gas production.
"As hospitality has thankfully been able to open up, our move couldn't have been more timely," said Henderson Foodservice MD Cathal Geoghegan. "We're thrilled to be able to support the industry in what has been such a challenging year and we look forward to working closely with our customers as the economy continues to move forward in a positive trajectory.
"The design, build and fit-out of our new warehouse was in partnership with Fermanagh-based construction company Tracey Brothers who had previously completed our ambient warehouse facility in 2017. We'd like to thank them for their excellent project delivery, which helped us transfer to the new centre with zero disruption to customers, during an exciting yet challenging time for our business as we restocked and prepared for the reopening of hospitality."
This latest project is phase three of a Henderson Group redevelopment investment strategy, which launched in 2008.