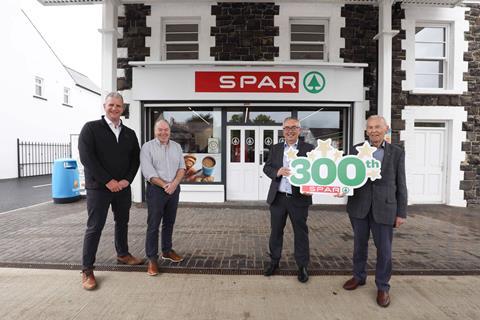 Henderson Group has hit the 300 mark for Spar stores in Northern Ireland.
The symbol operator reached the landmark last week with the opening of Spar Coagh in County Tyrone.
The 3,000 sq ft site is owned by Spar 77 Retail, which is run by Andy Davis and Graham Johnston and operates six stores.
Spar 77 Retail has invested £500,000 in the new store, which has created 24 jobs.
The store features locally sourced products, including the Spar wholesaler's Enjoy Local and The Greengrocers own-brand ranges.
It also features Sper 77 Retail's The Green Deli concept which serves hot breakfasts, lunches and carvery dinners, plus a counter from Mauds Ice Cream and Arc Wines off-licence.
It is the fifth Spar store to open in Northern Ireland so far in 2021 and Hendersons said it plans to open a further eight by the end of the year.
"Spar has brought countless opportunities for entrepreneurs, independent retailers and local suppliers since it arrived in the sixties, and no more so than in recent years," said Henderson Group sales & marketing director Paddy Doody.
"The concept has evolved and developed as consumer shopping behaviour and demands have changed.
"We have great ambitions for the remainder of 2021 and will continue to open stores and supermarkets that have been built with the local shopper in mind, including Spar Coagh which represents the next era for Spar and its fresh food offering."
Andy Davis added: "We are very proud to be operating Spar Coagh, a milestone store for the brand.
"We are passionate about bringing an amazing shopping experience made for those local communities and developing careers within our retail industry."