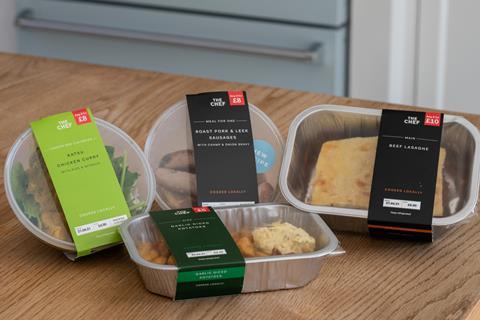 Henderson Wholesale has invested £120,000 into its pre-prepped meal range, The Chef.
The Northern Irish Spar wholesaler said it was responding to a sharp rise in consumer demand for convenient fresh meals.
The number of meals picked up from stores from the premium range doubled over the past year, with more than 10,000 meals being sold per week.
Along with the wholesaler's other own-brand preprepared meal ranges, including Enjoy Local and The Kitchen, sales grew 30% in 2020 compared to 2019.
This growth in demand meant sales of all its own-brand ranges and pre-prepared products rocketed to over £14m in the past year.
"Our own-brand proposition developed with local suppliers is second to none," said Henderson Wholesale fresh foods director Neal Kelly.
"Sales growth in the past year shows consumer behaviour is changing. Shoppers are looking for those simple yet full-of-flavour solutions to give themselves a night off cooking and our retailers are experiencing the benefit of that because they are choosing to shop locally instead of travel to larger supermarkets."
The £120,000 investment has contributed towards The Chef's recipe development, as well as a brand and packaging overhaul.
It has seen six new products added to the now 36-strong product range, with recent additions including two new under-500 calorie options and four new meals for one.
The new packaging has been made to reinforce its commitment to sustainability, with the sleeves and trays of each product now 100% recyclable. It has also invested in a new, premium look for the brand.
"Building the Henderson Kitchen and continuing to invest in it, chef Carl Johannesson and his team and the products, has given us the freedom to create exactly what shoppers are looking for, now that we've seen such a change in the way people are shopping, cooking and eating," added Kelly.
"The range encompasses handmade mains and sides, meals for one and well-rounded under-500 calorie meals as a nutritious lunch option, all using flavours from around the world, made with the best ingredients in collaboration with local suppliers."
Chef Carl Johannesson, who heads up Henderson Kitchen and was part of the creative force that established The Chef with his team, said: "The recipe development for our new products comes from shopper feedback, taste testing and food trends that we take inspiration from.
"Our team has over 25 years of experience to put into creating a premium range to enjoy at home, is packed full of flavours from around the world and uses great ingredients to make it. There is quite simply no other proposition on the market right now that compares to The Chef."
The wholesaler continues to "champion" local suppliers, with Bradmount Foods, K&G McAtamney, Daily Bake and Elmore Fish all providing ingredients for the range.