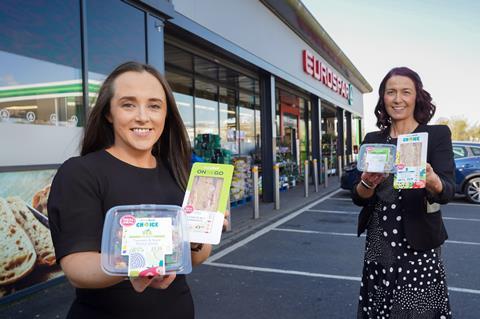 Henderson Group and food-to-go manufacturer Around Noon have invested over £80,000 to refresh the DailyDeli range.
The rebrand includes 12 new products, under two different sub-ranges: Nice & Simple and Choice.
The former has a value-led proposition, using key simple ingredients. The latter brings a selection of under 400-calorie, vegan and vegetarian options of sandwiches, wraps salads and snacks.
The Northern Irish Spar wholesaler said it had collaborated with the Newry-based manufacturer to capture the opportunity for growth in the market as lockdown restrictions begin to ease.
"Over the past year with more and more shoppers choosing Spar and Eurospar for all of their shopping occasions, we have closely monitored the shift in consumer behaviour and identified opportunities to grow our lunch on the go options," said Henderson Group fresh foods director Neal Kelly.
"It is this need for forward-thinking and quick turnarounds that makes our working with local suppliers such as Around Noon even more important. Adjusting our products to fit the market is crucial to the success of our retailers, and whether working from home or back in the office, we know consumers will continue to seek out 'to go' lunch options.
"It's more important than ever that we provide a broad range of quality food-to-go options to fulfil their daily needs."
Around Noon CEO Gareth Chambers said such requirements had been considered during the revamp.
"We are carefully considering what shoppers want to eat," he said. "The rise in consumers turning to veggie and vegan diets, or taking a flexitarian approach, has seen us develop products that makes it easy to maintain various lifestyle choices.
"Also, with weather improving and restrictions easing we wanted to further enhance the DailyDeli range and give consumers even more choice when planning their perfect picnic."
Hendersons has also invested in fully recyclable labels, sandwich and wrap boxes with all salad and snack pots made from 50% recycled material, which are also fully recyclable.
Kelly continued: "As the biggest wholesaler in Northern Ireland, we make every effort to factor in such sustainability practices in all our products."
The new DailyDeli range will be available in over 130 Spar, Eurospar, Vivo and Vivoxtra stores and supermarkets, including all Henderson Retail operated outlets.