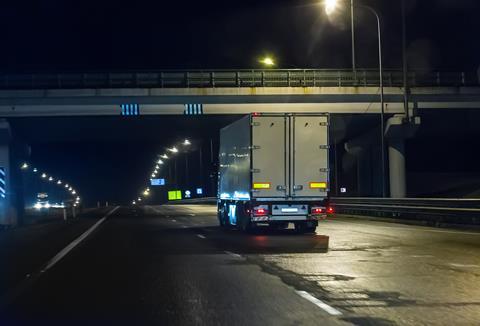 The government has announced an extension of driver hours in a bid to ease the crippling HGV driver shortage in the UK.
The temporary relaxation of the rules will mean HGV drivers will be legally allowed to drive for an additional one hour per day, from nine to 10 hours. It will also allow drivers to undertake two eleven hour shifts per week.
"We're temporarily extending drivers' hours rules from Monday 12 July to allow HGV drivers to make slightly longer journeys where necessary, as we're aware of a current shortage of drivers," said minister for transport Charlotte Vere.
"Driver safety must not be compromised and operators must notify DfT if this relaxation is used."
The move has been welcomed by the Federation of Wholesale Distributors, which has lobbied for the measure since the onset of the crisis in April.
"This is just what food distributors needed, an immediate and obvious solution to what could have been a catastrophic supply chain failure," said FWD CEO James Bielby.
"The flexibility in drivers' hours means those out-of-the-way shops, pubs and restaurants will get the stock they need for the big re-opening on Freedom Day, and will allow wholesalers to do as much as 15% more deliveries each day.
"Provided it remains in place into the autumn, it will avert possible school closures in September and shortages in the shops in the run-up to Christmas."
One national wholesaler said the additional time would allow it to deliver up to 15% more loads a day.
However the Road Haulage Association has condemned the move. "This is madness when the logistics industry has collectively and specifically advised against this," said RHA CEO Richard Burnett. "Loading more hours on to drivers that are already exhausted is not the answer, this will only push more to leave. It also risks road safety.
One leading haulage operator has already said it will not be asking its employees to work the extended hours.
"It is not a safe or healthy way to run a haulage business," said a senior director at the company. "We asked our drivers to do it in April last year as a one-off, but we will not be asking them to do it again."
Meanwhile, The Grocer understands that the government is also in advanced talks with industry to relax immigration rules with the introduction of a temporary visa to allow EU drivers to work in the UK