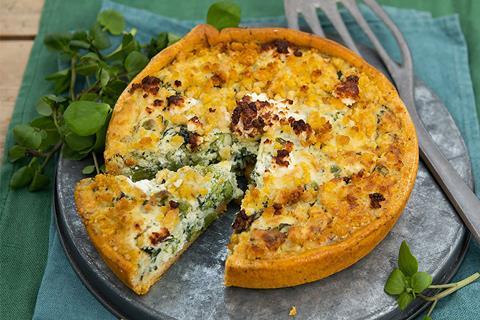 Higgidy is hoping to lure health-conscious shoppers to the savoury pastries fixture with a range of quiches featuring what it claims is the UK's first mass-produced vegetable pastry.
It has created a duo of quiches – Mediterranean Pepper & Feta and Garden Greens & Ricotta – whose pastry rim and base is made with a new recipe incorporating mashed sweet potato, carrot and butternut squash purée, giving it 30% vegetable content.
The "perceived level of health" of the savoury category was acting as a barrier to some shoppers buying into the category, Higgidy CEO Rachel Kelley told The Grocer, adding the brand was "the first to technically achieve [a vegetable packed pastry] at scale".
"It is really difficult to scale up the consistency and texture when you add to a pastry."
The brand wanted to "open up savoury pastry to an audience that is just so cautious and concerned", added Higgidy founder Camilla Stephens, and had "done a lot of playing around in the development kitchen" prior to launch.
The duo will hit Sainsbury's from 7 July (rsp: £4.25).
They have rolled out in new packs designed to convey the NPD's "artisanal" credentials and play up their veg content, said Stephens.
She also hinted future launches could also make use of the veg-packed pastry. "We hope it's the start of something really special where we could take it across other subcategories," she said.
It comes on the back of a busy year for the brand, which has been steadily expanding its range: March saw it unveil a range of upmarket pastry slices to tap the boom in at-home lunches, having made a major move into the ready meals market in 2020.
Last month Higgidy kicked off a major partnership with Sainsbury's, launching a new 'lunch picnic' branded fixture into 277 of the retailer's stores, complete with branded aisle fins, shelf strips and barkers.