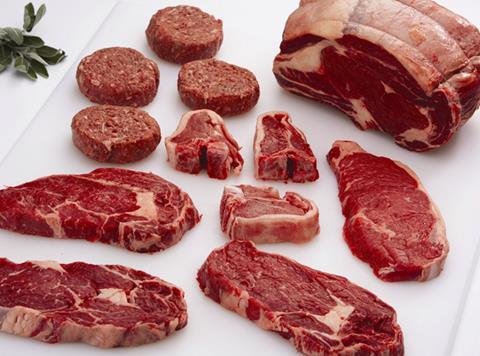 Meat supplier Hilton Food Group firmly established itself as one of the pandemic's winners this week as it reported booming sales.
The multi-protein group, which supplies own-label meat and fish to Tesco and owns The Saucy Fish Co brand, reported a 53% surge in annual revenues to £2.8bn for the 53 weeks to 3 January off the back of the shift to home cooking during the pandemic. Hilton's total annual volumes leapt by 23.8% to 469k tonnes.
It hailed progress in Europe across all its red meat, fish, vegetarian & vegan and fresh food categories as people ate out less across the continent. This, and the expansion of its UK meat supply with Tesco, led to European turnover rising to just short of £2bn (up 13%) off volume growth of 8.5%. But the majority of the supplier's sales growth was delivered by its Australian business, with a 108% jump in volumes, driven by the company's first full year of production at its new facility in Brisbane, as well as the end of a transition period for a joint venture with retailer Woolworths.
Adjusted operating profit across the group came in ahead of expectations, rising by a fifth to £67m, albeit margins fell from 3% to 2.4% year on year due to the recognition of revenue from the two Australian joint venture facilities following their transition to Hilton ownership, as well as higher Australian raw material prices.
Shares were up 2.9% to 1,150p on Wednesday and by another 3.5% to 1,190p by Thursday lunchtime on the strong performance.
While Hilton has benefited from a temporary spike in retail demand during the Covid crisis, which will inevitably fall as people return to eating out, analysts suggested the group was poised to benefit from longer-term trends.
"We expect the focus on home cooking to continue and more people will work from home at least some of the time," analysts at Peel Hunt commented: "There is likely to be a permanent shift from over-the-counter meat service to packaged products, due to consumer demand and as retailers assess the additional risk and cost of maintaining counters."
Broker Goodbody added that the results also illustrate how its relationship with key customers including Tesco and Zabka "has been validated over recent months". "Retailers have been progressively rationalising their supply place through choosing large scale centralised packing solutions, which Hilton's model offers," it said
Elsewhere, Deliveroo's disastrous IPO received a tepid boost from its first day of open trading, but any positive sentiment was undone by news of a strike amongst hundreds of its workers.
After falling by more than 30% on their market debut last week, Deliveroo's shares were up 2.1% to 286p as unconditional trading in the shares began on Wednesday. But the rally fell flat on news that riders were striking to call for "fair pay, safety protections and basic workers' rights".
Having floated at 390p a week ago, Deliveroo shares remained down at 283.3p on Thursday.