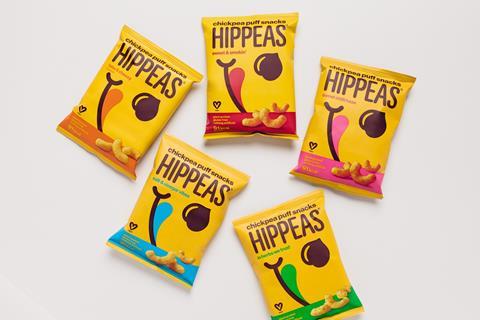 Hippeas has secured $50m (£36.4m) of venture capital funding to help the chickpea snack maker expand.
The money from The Craftory will be used to increase production capacity, boost distribution and continue with product innovation, as well as bolstering the business' sustainability credentials.
Hippeas launched in the UK and US in 2016 with a line of chickpea-based puffs targeting health and calorie-conscious consumers.
It is now stocked by major retailers such as Tesco, Sainsbury's Asda, Waitrose and Co-op in the UK and Starbucks, Target and Kroger in the US.
"Hippeas has grown from a disruptive start-up to a true challenger brand in very competitive snack categories with innovative products, delicious flavours and nutritional offerings that consumers want – the brand has the potential to become a household name with its loyal millennial fanbase," founder and CEO Livio Bisterzo said.
"The pandemic has been very difficult for many brands," he added. "Hippeas has been fortunate to have seen strong growth and we are delighted to have partnered with The Craftory as we head into 2021.
The financing from The Craftory consists of direct investment and shares purchased from existing Hippeas shareholders.
Based in London and San Francisco, The Craftory is a $375m investment house focused exclusively on brands in the consumer space that have a positive impact on the world.
Craftory founder Elio Leoni Sceti said: "The consumer agenda in snacking has fundamentally changed and Hippeas stands out as a clear leader. It offers zero compromise of flavour and texture, no need to change consumer habits nor expectations, while also being healthier and more sustainable than the more traditional alternatives."
Previous investors in Hippeas include Cavu Venture Partners and Strand Equity Partners, alongside Hollywood actor Leonardo DiCaprio.