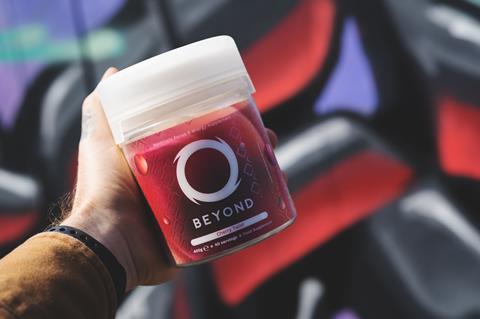 Holland & Barrett is claiming a UK high street with a new listing for an energy supplement "developed especially for gamers".
The retailer is selling Beyond NRG's powdered energy supplement and has created a new category on its website dedicated to 'esports'.
Beyond's specialist gaming product will be available in two flavours – Blue Raspberry Lemonade or Strawberry, Watermelon and Lime – in 375 stores across the country.
A further three flavours are available online: Wild Forest Fruit, Honeydew Melon, Grape & Raspberry and Mango, Pineapple & Blood Orange.
Beyond's ingredients are claimed to enhance cognitive function, improve blood flow and reduce stress and anxiety. The supplements contain nootropics said to improve mental performance in users while avoiding the peak-and-crash feeling promoted by high-sugar or caffeinated drinks.
The 400g tubs contain about 40 servings and retail at £34.99 each. The energy supplements are sugar free, have less than 20 calories per serving and are suitable for vegetarians.
"We are seeing an incredible difference in how people view esports this year," said Beyond NRG CEO Billy Webb. "There is a billion-pound global supplements industry all targeted towards fuelling your body for physical sports – but limited options that fuel mental performance for this ever-growing category.
"We wanted to create a drink that genuinely helps people compete, along with putting nutrition at the forefront of their minds."