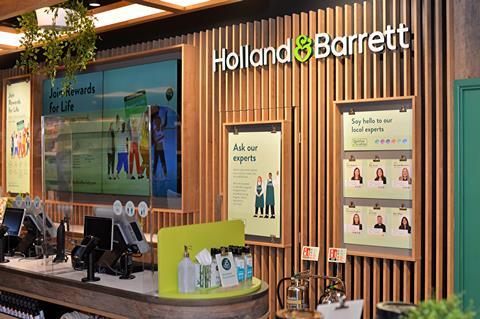 Digital sales at Holland & Barrett have more than doubled as locked-down shoppers flocked to stock up on health and wellness products during the coronavirus pandemic, but physical store revenues declined.
Sales for the health chain's ecommerce arm climbed 103% to £125m in the year ended 30 September 2020, according to newly filed accounts at Companies House.
The shift to online harmed the group's bricks-and-mortar revenues, however, as continued Covid restrictions brought diminishing customer footfall as shoppers abandoned town centres and high streets.
Sales in Holland & Barrett's 700-plus stores slumped by 12.6% to £477.9m last year, a £64m fall from 2019 levels.
The plunge came despite Holland & Barrett being classed as an "essential retailer" and its stores remaining open through the first national lockdown in 2020.
The permanent closure of 21 stores in the period also contributed to the decline in the top line.
Taken together, the surge in online shopping helped overall revenues remain flat in 2020 at £538m, compared with £539m in 2019.
Profits on the online side rocketed as a result of the higher digital demand, with EBITDA climbing from £7.4m to £34.9m.
Underlying profitability also improved for the physical shops despite the fall in sales as management kept tight control over promotional activity, margins and costs. EBITDA before exceptional charges increased to £42.3m in 2020, from £34.9m in the prior year.
However, executive upheaval cost Holland & Barrett £3.2m for the year as the group was forced to find a replacement for outgoing CEO Tony Buffin, who quit the retailer after only a year in charge.
Other exceptional costs included £3.1m related to Covid, £3.8m for legal and professional fees and £1.4m for store closures.
Operating profits for the year totalled £2.2m, an improvement on the £21.5m loss in 2019 when the group was hit with exceptional items of £29.5m.