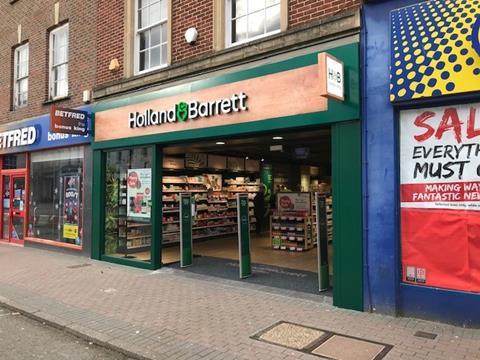 Holland & Barrett has rolled out its sustainability and technology-led refit programme to its Taunton store in Somerset.
The health and wellness retailer has refurbished the branch using 100% recyclable material.
It's the fourth branch to get a makeover first seen at the retailer's Chelmsford shop last July.
The 1,528 sq ft Taunton store now has LED lighting, energy-efficient chillers and freezers, free water and a selection of new products. They include 120 health supplements, 30 sports nutrition products and its cruelty-free beauty range.
To help minimise contact, shoppers can scan QR codes in the store to get more information on individual products and use its click & collect service.
Holland & Barrett has split its estate into two store types: 'service hubs,' and 'neighbourhood', with Taunton falling into the latter category. The revamped branch does not offer the complimentary private video or face-to-face consultations with nutritionists and personal trainers provided at 'service hubs' such as Chelmsford.
"Myself and the rest of the team at Taunton are thrilled to be re-opening our brand new store and showcasing its new look and feel to our customers," said store manager Nikki Parsons. "Our team of trained experts are looking forward to helping people in the community with advice on keeping well and looking after themselves, whether that's sleep advice or customers who need some guidance on what vitamins and supplements might be right for them."