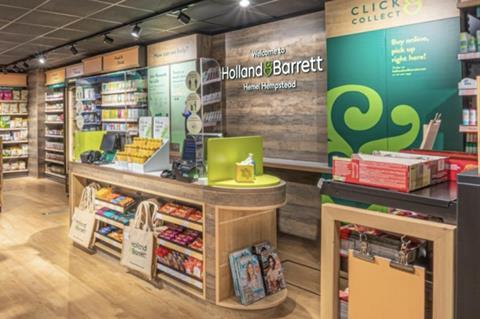 Holland & Barrett has rolled out its sustainability, technology and futureproofing-purposed refit to another two stores.
The health and wellness retailer has refurbished branches in Hemel Hempstead, Hertfordshire, and north London's Angel.
Both stores have LED lighting, zero-waste refill stations, complimentary water, a click & collect service, digital screens displaying promotions and around 1,000 new products. The range includes supplements, vitamins and its cruelty-free beauty products.
To help limit contact with staff, shoppers can scan QR codes to get more information on individual items and get free private video consultations with nutritionists and personal trainers.
The Angel store has also been expanded and now consists of two shop units totalling 1,389 sq ft.
Holland & Barrett began rolling out its store redesigns in July with its Chelmsford, Essex shop, followed by Farnham, Surrey in October.
The retailer has split its estate into two store types: 'service hubs' and 'neighbourhood', with Angel and Hemel Hempstead falling into the former category alongside Chelmsford, while Farnham is categorised as the latter.
"We are delighted to be expanding our new store proposition into Angel and Hemel Hempstead as we continue our transformation," said Holland & Barrett group retail and property director Anthony Houghton. "Our new store design is a much calmer environment with a significantly improved layout and navigation to help customers access the wellness products they need more easily.
"Since launching our first-ever concept store in Chelmsford back in July, we have been keen to roll out some of the exciting store features, such as Manuka and specialist honey displays, zero-waste refills, and the new brand look and feel to our wider store estate. Both sites will give local residents even better access to health and wellness knowledge and expertise on their high street."
Mir Harun, manager of the Angel store, said: "The team at Angel Central are very much looking forward to opening the doors to our brand-new store and welcoming customers back. We are excited to be able to offer a wider range of the latest vitamins, supplements and clean and conscious beauty products."
The latest refits follow Holland & Barrett's decision to phase out its chillers and freezers across its store estate in the new year due to declining sales. The move will impact 26 suppliers.