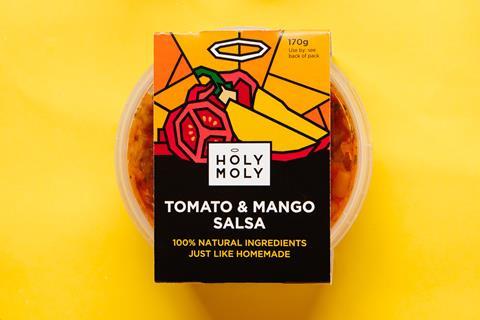 Upmarket guacamole brand Holy Moly is planning to launch a vast swathe of new dips over the coming year.
The brand this week unveiled the first of numerous launches to come over 2021 – Tomato & Mango Salsa – with plans to develop "a whole basket of genuinely better dips".
"We are moving beyond Mexican and guacamole because we believe we can apply our principles to other dips," said the brand's co-founder Tom Walker.
"A salsa is a natural step but with our pipeline we are looking at the whole category. Our mission is around making convenient food as good as homemade, and we can apply that across other fixtures."
Rather than developing the products before approaching buyers, the brand was "working hand in hand with our customers", added co-founder Gaz Booth.
"We've spent the best part of two-and-a-half years putting the message out there about what proper homemade dips can taste like. Our retailers are saying to us they are ready for the next thing."
Last year saw the brand expand into the RTD category with a trio of 'Nutshakes' made with raw, unpasteurised almonds and fresh fruit.
However, said Walker, the brand would now be focusing primarily on dips. "We can can do more in the space we've been in for the last three years. That's not to say we're not going to continue to look at other categories, but the big opportunity for us is the deli space."
Holy Moly's Tomato & Mango Salsa hits Waitrose this week, followed by Ocado next month and Sainsbury's in May (rsp: £2.50/170g).